Valentine's Day will soon be here! I love Valentine's Day, but am never quite sure what to get my husband. Because we started out poor, as most couples do, we started a tradition of doing free/homemade gifts for each other. That tradition remained. Here are a few things we've done over the years to show each other we care.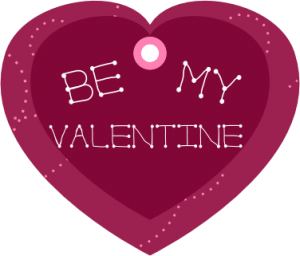 Scavenger Hunt – Send your loved one on a scavenger hunt with clues linked with special memories you share. Have a small gift at each location. You can do this through your house (if your Valentine Date is at home after the kids go to bed), or at different locations if you have the flexibility. For example: "Go to the place of our first kiss." There, have a bag of candy kisses. Send them to three or four locations with small gifts. Then be at the last location to greet them.
Letter – Write a letter telling your loved one how much they mean to you. In my opinion, this is much more special than any purchased gift.
Write a book – I've written my husband two books in our marriage. The first is the story of how we met, fell in love and got married. I wrote it as a children's fairy tale, with a prince and princess. The second book is a rewriting of one of our favorite children's books. I changed the characters and situations to reflect our lives and experiences. They are silly and very unprofessional, but are special books in our home.
100 days of love – Write down 100 quotes, song lyrics, or your own feelings on small pieces of paper. Fold these and put them in a jar. Each morning, your loved one can read one to be reminded of your love.
Candy Graham – A classic but a fun idea. And who doesn't like candy?
Homemade treat – Make them a special goodie you rarely make. Wrap it up and include a card.
The ultimate date night – Though my husband and I love each other very much and always have fun together, we have complete opposite taste in movies. A real gift is when I'm willing to sit down with him and watch one of his favorite movies while eating his favorite take-out I normally wouldn't go for. Selflessness is always a great gift.
Write a poem – I don't like most poetry. It may be strange, but I just really don't enjoy it. But when my husband writes me a poem, I love it. It doesn't matter if it is written well, or follows the rules; I love it. You don't have to be a poet to write someone you love a poem.
Framed picture – Pick a favorite picture of the two of you doing something memorable and frame it. We have a framed picture of my husband and I on our honeymoon at Disneyland. It brings back great memories every time I see it.
Do something to take stress of their shoulders – "Dear husband, I would love it if you would clean all the bathrooms for me on Valentine's Day, so I don't have to do it. That would be one of the greatest gifts of all. Love, Me." As I have not-so-subtly suggested, consider alleviating some stress from your loved one by doing a chore they don't enjoy. One year, I cleaned and organized my husband's entire office for Valentine's Day. I put a bow on the door with a huge to/from tag.
What other homemade gifts have you given or received for Valentine's Day?