When my mom hears someone is having a baby, she always makes them these baby blankets. I have a boy and a girl, so I have enough of these baby blankets to keep an army warm. They are the perfect blanket because they are warm and big enough for a good, tight swaddle.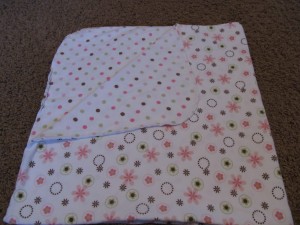 The best part is, these blankets are fairly simple to make compared to other blankets.
Directions to Make the Baby Blankets:
Purchase two pieces of flannel, size 1 1/4 yard (make sure they go well together as one will be the front and the other, the back).
Be sure to wash the fabric before you do anything else as flannel will shrink a bit.
Put the two pieces of fabric together (back sides touching) and cut them into equal size squares (this is most easily done with a rotary cutter, but can also be done with scissors).
Place a salad plate in each corner and cut to make a rounded corner.
Use a serger sewing machine (or a very tight zigzag stitch) and stitch around all the edges.
That's it! These blankets come together so quickly, my mom has made huge batches of them to donate to hospitals or relief efforts. 
Here is a picture of my daughter swaddled in one of her blankets.