As you may recall, I stated earlier I plan to post Christmas ideas throughout the rest of the year to help my readers get a head start on Christmas. Today, I have a present ideal for young kids who may not be thrilled about the idea of keeping a journal: a personal calendar.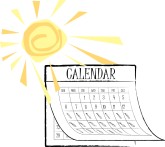 Create a calendar using a Microsoft Excel template (or another program you prefer), but change the colors to fit the month (change October to orange, December to green, etc). Include a front cover. Print out all the pages and have them spiral bound at an office supply store. Now, the back of the previous month acts as the picture for the next month (ex: when you flip up January to see February, the back of January is above February).
This is where the kids get to personalize them. At the beginning of each month, your child gets to color a picture to represent that month. Then they get to write significant things into the dates on the calendar.
My son is 3, so this is a great way to keep track of the exciting things he does. We have visits from grandparents, fun trips or outings, and milestones written on his calendar. We also attach objects to the picture part of his calendar. This week, we put his name tag from his first day of preschool on his calendar.
My son gets so excited to color his calendar and feels so proud when we get to write in an achievement. Best of all, we get to make another one for the next year!