Christmas is just around the corner (though my son still gets upset when I play Christmas music; claiming it's too soon. What a Scrooge!!). With the cost of chestnuts to roast and logs for the open fire always on the rise, it would be nice to have some help with Christmas gifts. Well… MERRY CHRISTMAS!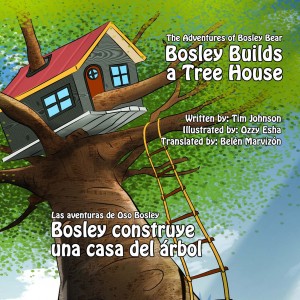 Our friend Tim Johnson, author of the "Bosley the Language Bear" books, is offering a free copy of his new book,"Bosley Builds a Treehouse" to a Pink Apron Blog reader. The Bosley books are not only fun stories but are a GREAT way to help kids learn a new language. Each story is written in English with translations in Spanish, French, Italian, German, Chinese, Russian or Japanese.
Tim sent me a copy of the new book (with the Spanish translation) to review. The story was fun to read and the dual language component was very well done. Rather than just include a direct translation of the story, Tim highlights key words in both languages to easily translate specific words.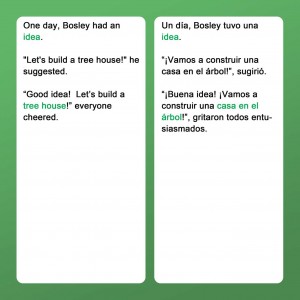 He also includes translations on the illustrations. This was my six-year-old's favorite part.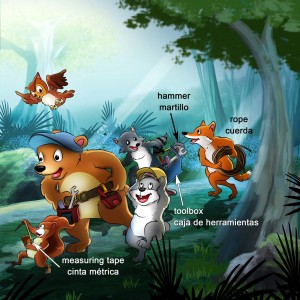 My three-year-old said her favorite part was when all the animals took a nap… Either way, they both enjoyed the book and asked me to read it several times. I can love the book and think it's a great idea, but for me, the true test is how my children react. Considering they sat still through the entire book and asked for an encore, I'd say it was well received.
The contest for the give away begins today and runs through November 15th. Click on the giveaway box below to enter to win a free copy of Tim's new book. You will be prompted to login with your Facebook account and like The Pink Apron Blog Page to enter. One winner will be selected at random to win a free book with the second language of their choice. We will contact the winner for a mailing address and language preference. Five other random readers will receive a code to get the book 50% off from Amazon.com. 
Tim Johnson published his first dual language children's book in 2011 in 7 different foreign languages as a tool to increase cultural awareness and gain new perspectives.
To find out more about the "Bosley the Language Bear" series and to see the other books, visit, theLanguageBear.com. You can also check out Bosley Bear's Facebook page at facebook.com/LanguageBear.
a Rafflecopter giveaway