This year, we've made a family goal to do some kind of family service project once a month. We want our kids to know how good it feels to serve others. My challenge for each of my readers is to find some way this month to serve someone. You can do it alone with your family or with friends. Here are five ways anyone can serve.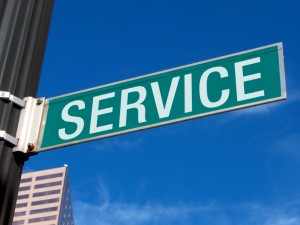 Make dinner for someone – Take dinner to someone who is sick, dealing with a difficult situation, having financial struggles or just may be lonely. It doesn't have to be elaborate or even completely homemade (pre-made chicken or frozen lasagna).
Mail a friend a nice note – I love getting letters in the mail. It's such a nice change from email. Getting a nice note in the mail makes my day and therefore I like to spread that joy to others. This is a great idea because it's very personal and doesn't take a lot of money.
Host a baby shower for charity – I did this about a year ago and it was great! This is a great chance to get together with friends, have some great food and help out some kids. Find a local charity that donates baby clothes, blankets, bottles, diapers, etc and find out exactly what they need. Send out invitations inviting your friends and family to a baby shower for charity. Everyone brings an unwrapped gift and spends the evening socializing. Then take all the gifts to the charity.
Give away your excess – Go through your house and clean out what you don't need (clothes, blankets, kitchen gadgets, etc). Call local soup kitchens and shelters and ask what they need. This is a good way to clean out your house and help others.
Leave a treat and run – Put together plates of cookies, bags of candy or other treats. Write a nice note and deliver them to a friend's door. Ring the doorbell and run. Doing things anonymously is a lot of fun. It feels great to serve someone else when there is nothing at all in it for you.
Because my family and I are trying to serve together once a month, we're always looking for new ideas. Please comment and let us know your ideas for service.