A few weeks ago, I took a look at my life. As we all do, I was so absorbed in all I had to do, I wasn't looking around me to find ways to serve my community. I decided I needed to do something, but I wasn't sure what.
Being a mom, I'm very passionate about helping children. I decided that was what I wanted to do. I did some research and found the charity Newborns In Need. Newborns in Need distributes items to babies born into poverty.Volunteers hold showers and collect items for babies such as clothes, blankets, diapers, formula, etc. I invited friends and family members to a baby shower and was so touched by how much people gave.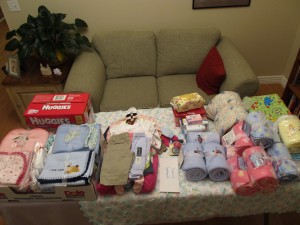 While I found this charity to be one I wanted to donate to, that is not the point of this post. The point is to encourage everyone to get out and serve. Like I did, find what you are passionate about and find a way to use that passion to bless the lives of others. If you like to bake, check out the
Great American Bake Sale
. If you have too much stuff lying around your home and want to have a garage sale, check out the
Better Homes and Garden's Clean Out for Kids
. Both charities raise money to help end childhood hunger.
If you are looking for something different, explore service opportunites in your own communities, or use the internet to find a charity you might be interested in.
I am a firm believer that when we serve, we not only bless others, but we enrich our lives as well.