We recently moved to a new house. While I love my new home, the builders obviously didn't have young children and put light-colored carpet in the dining room. We hope to one day exchange the carpet for wood, but in the mean time, I have a very messy baby who likes to throw food.
I tried to find a plastic sheet to put under the high chair. I found a $7 pad with pictures from the movie Cars. While we are big fans of the movie Cars in our home, I'd prefer not to design my dining room around animated, talking cars. I decided to make my own.
I purchased a clear shower curtain liner for $2.35 cents. I spread it out on the floor and used a dry-erase marker to trace a flower design but moving a large dinner plate around the curtain.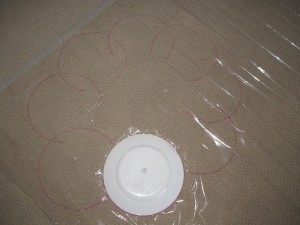 I then cut out the shape with scissors (it cut very easily) and erased the marks.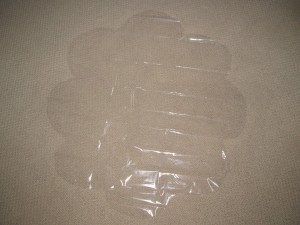 That's it! I feel much better about feeding my baby on my lovely carpet, and feel even better that I did it the cheap way!