Out of all the gifts I've given my parents, I believe this was their favorite: a calendar of their grandchildren.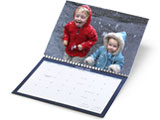 Rather that find them a beautiful calendar at the mall, I made one with pictures of their grandchildren for each month. I created mine using iPhoto, but Sam's Club, Wallgreens, Kodak and many others provide a similar service.
Rather than filling the calendar with random pictures, my siblings and I included pictures of our children that fit each month. For example, for February, I dressed my son up as Cupid (he was only seven months old, and I'm sure he'll destroy the picture when he is older), for November, I dressed him as an Indian. My brother (Let's be honest. Really my sister in law) was in charge of December and included the cutest picture of their baby boy in an overlarge Christmas stocking. My sister sent an April picture of her daughter devouring Easter candy.
I also personalized the calendar with specific dates (birthdays, anniversaries, etc).
Overall, it was a fun-to-make, inexpensive present my parents loved.