Here is a quick, easy Thanksgiving treat easy enough for kids. These turkey cookies are so easy, because we used all store-bought ingredients. I normally believe frosting from a can is numbered among the top evils in the world, but I decided to simplify things for this project.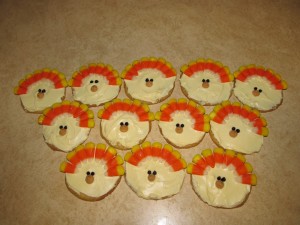 All we did was bake 12 sugar cookies using pre-made, pre-measured dough from the grocery store. That's basically as easy as it gets. Then we topped them with storebought buttercream frosting. To make me feel a little better about using canned frosting, I added 2t vanilla extract and 1t orange extract. I have to admit, it was quite tasty.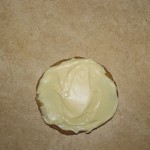 Then we stuck candy corns around the cookie before the frosting had a chance to set.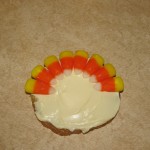 The beak is a butterscotch chip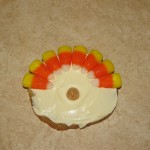 And the eyes are just black piping gel.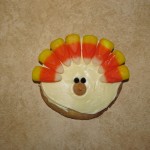 That's it. When I asked my husband if they looked like turkeys, he said they were either that or a new version of Angry Birds. Hmmm….
Are they the most turkey-like Thanksgiving treat ever? Probably not. Are they the easiest and most kid-friendly? It's possible.