I love tacos, but they can be a bit hard for kids to eat, particularly 2-year-olds. I came up with this casserole, so we could have the taste of tacos, without my youngest ending up with a lap full of food.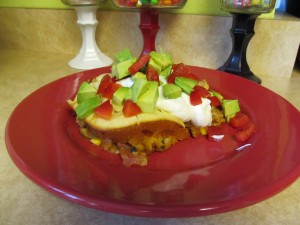 In a skillet, brown:
1/2 – 1 lb ground beef (or turkey in our house)
1/2 chopped onion
In a strainer, drain and rinse:
8 ounces corn
8 ounces black beans
14.5 ounces garlic, fire-roasted diced tomatoes
Add the corn, beans and tomatoes to the beef and onion. Stir in:
1/4 C taco seasoning
1/2 C water
Let this mixture simmer together on low for about 15 minutes.
In a separate bowl, use a fork or whisk to combine:
1 C baking mix (like Bisquick)
1 C milk
1 egg
Pour the meat mixture into a 2 quart baking dish.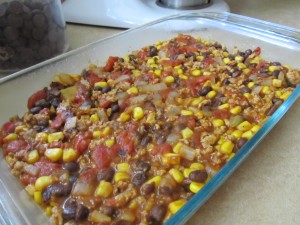 Top with 1 C grated cheddar cheese.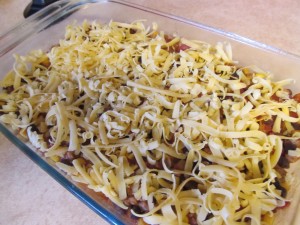 Pour the biscuit mixture on top.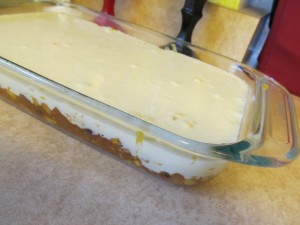 Bake at 400 degrees for 20-30 minutes or until edges are golden brown.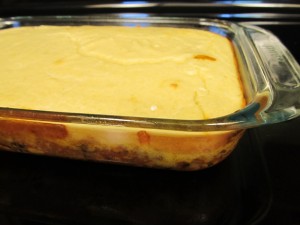 I topped mine with sour cream, avacados and red peppers. Had I made this for a different group, I would have added the red peppers in with the meat. But since I'm the only one in my family who likes red peppers, I just put them on top.