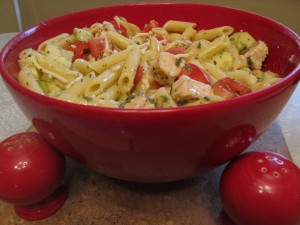 Yesterday was my husband's birthday. I offered to make him anything in the world for dinner. He chose this salad. It's quick and easy, so I was okay with that. I often make it without the chicken and cheese as a side salad, but otherwise it is great as a main dish.
Ingredients:
2 cups uncooked pene pasta (really any pasta will do)
2 roma tomatoes, cubed
1 cucumber, peeled and cubed
1 large chicken breast, cooked and cubed (I sprinkle italian seasoning on mine and grill it. But if you had left-over chicken that would work fine too. Just use 1 to 1 1/2 C cooked chicken)
1 C mozzarella cheese
2 T fresh, chopped parsley
1/2 bottle Italian

salad

dressing (Really any vinaigrette will work here. For his birthday, my husband chose Caesar Italian. My favorite is Sun-Dried Tomato).
Salt and pepper to taste
Directions:
Cook Pasta according to directions on box. Drain and let cool.
In a large bowl, combine cooled chicken, tomato, cucumber, pasta and cheese.
Top with dressing, parsley, salt and pepper
It's that simple! This is a great summer dinner or for a picnic. It can be served at any temperature.