Trifle is my favorite dessert of all time. It's one of those classic recipes that's always good. While you can add any fruit you like (I prefer adding bananas, but my husband would probably cry), this recipe is a basic strawberry and custard version.
Start with an angel food cake. You can purchase one if you are short on time, but I love homemade angel food cake. I made mine using the basic recipe from the good old, white and red Better Homes and Gardens Cookbook.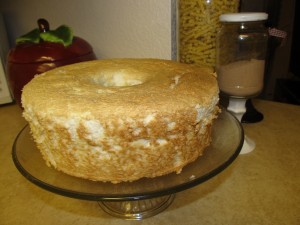 While the cake cools, make the delicious custard by mixing 1 14 ounce can condensed milk (I used fat free and it was still wonderful), 1/2 C water and 1 3.9 oz package instant vanilla pudding. When this is completely mixed, fold in one 8 ounce container whipped topping (Again, I used fat-free with great results). Put this in the fridge while preparing the rest of the ingredients.
Slice up one pint of strawberries and stir in 2 T sugar. Set aside.
Cut the angel food cake into 1″ (ish) chunks.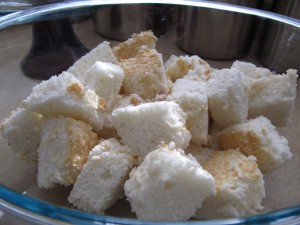 Now start layering!! In a glass trifle dish (or something equivelent), put in 1/3 of the cake, top with 1/3 of the custard and then 1/3 of the strawberries. Repeat until all ingredients are gone.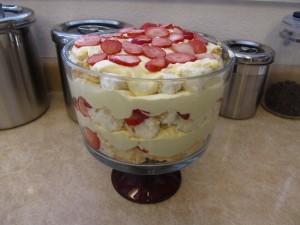 Now you can either top the entire thing with 8 oz of whipped topping, or top each individual serving. I personally like to top each serving so I make sure every serving gets a scoop. Enjoy!