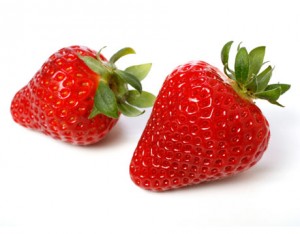 Here is a recipe for an amazing strawberry glaze.
Ingredients:
I batch cream cheese frosting
2 C strawberries
Directions:
Puree the strawberries and place them in a strainer to drain a bit off the juice.
Make your favorite cream cheese frosting.
Whip pureed strawberries into cream cheese frosting.
Refrigerate
I drizzled this over almond cupcakes and a chocolate bunt cake.  It's much too thin to be a traditional frosting, but it serves great as an extra rich glaze.
My cream cheese frosting recipe:
1/4 cup butter
1 8-oz pkg cream cheese
3 C powdered sugar
I generally add a teaspoon of vanilla, but in this case, I leave it out as it would add too much liquid.