I love strawberries. Plus it's one of  the only fruits my husband will eat. For these reasons, I'm always looking for new ways to use strawberries. This week, we made a strawberry crisp. This is one of those rich, warm desserts that's perfect on a rainy day.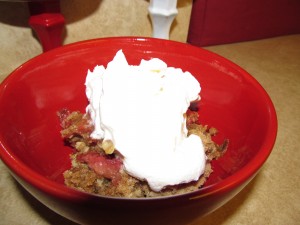 Start by preheating your oven to 375 degrees.
Combine:
5 C sliced strawberries
1/3 C sugar
3T flour
1 t cinnamon
1/4 t nutmeg
While your strawberry mixtures sits, in another bowl combine:
1 C flour
2/3 C brown sugar
1 C oats
1 t cinnamon
With a pastry blender, two forks, or your hands, mix in
1/2 C cold  butter, cubed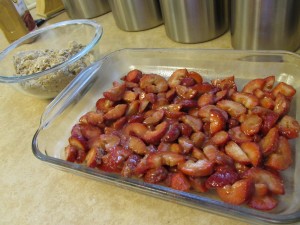 Pour the strawberry mixture into a greased 9×13 pan. Top with flour mixture and bake for 30 minutes or until strawberries are bubbly and topping is slightly browned.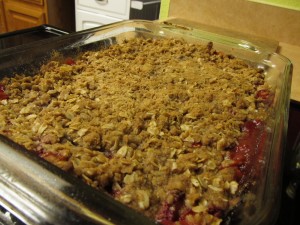 Serve with fresh whipped cream, whipped topping or ice cream.