On my son's last birthday, he requested I make Star Wars cupcakes for himself and his 24 classmates. He had visions of Darth Vader and Jedi-shaped cupcakes. Sadly, that's way beyond my skill level. And as much as I love my son, I'm not willing to spend six hours making intricate cupcakes for a room full of children to devour in minutes. We sat down with some paper and markers and my son designed a Star Wars Cupcake simple enough for his un-artistic mother to create.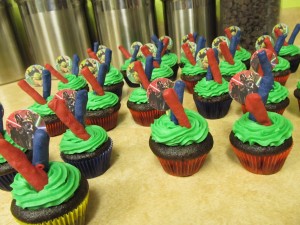 I started out with the lightsabers. These were so simple. I melted about 1/2 C blue candy melts in one bowl and 1/2 C red candy melts in another. Then I dipped in stick pretzels about half way, letting the excess drip back into the bowl. The pretzels went onto wax paper to set.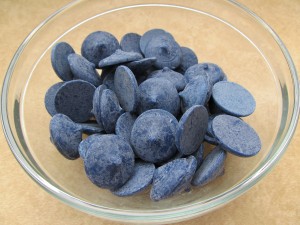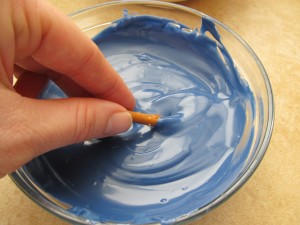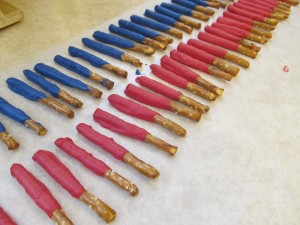 Once the pretzels were set, I frosted mini cupcakes (per his teacher's request) with green butter cream frosting. He chose green because it's a "Jedi color" and we'd already used blue and red. He told me I could have also used purple, but that's too much of a "girl color." I just do what I'm told.
Stick the pretzels into the cupcake so they are crossed like dueling lightsabers. Then add a Star Wars cupcake pick. Sadly, I couldn't find any Star Wars picks, but I did find a bag of Star Wars confetti. I used hot glue to attach two pieces of confetti to a rounded toothpick (We don't want any small children injuring themselves with a toothpick). This took about 15 minutes.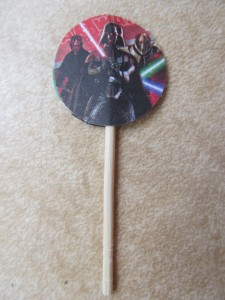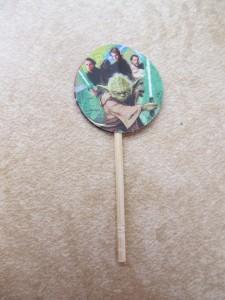 That's it. My son was thrilled, his classmates were thrilled and I still had a good chunk of the afternoon leftover to do exciting things like scrub toilets. Everyone's a winner.