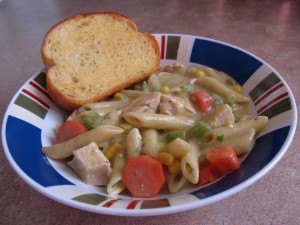 I do not like canned chicken noodle soup. But when I was sick a few months back, I wanted some homemade chicken noodle soup. Being the mom of the house, there was no one to make it for me, but me. Because I didn't want to spend hours making soup, I came up with this recipe. This is the best chicken noodle soup I've ever had! It's a lot thicker than your traditional soup, which I like.
The great thing about this recipe is; you can change it to fit your tastes. I don't think I've made it the same way twice. Plus, it's so easy to make. Add or omit vegetables to fit your family.
Ingredients:
2-3 boneless, skinless chicken breasts (cubed)
2 carrots (chopped)
2 stalks celery (chopped)
1/2 to 1 C frozen peas
1/2 to 1 C frozen corn
1/2 onion (chopped)
1-2 T poultry seasoning or grill seasoning
Salt and pepper to taste
2 cans cream-of-chicken soup
2-3 cans chicken broth (water may be used instead)
1-2 C pasta (we like pene)
Directions:
Put chicken breast and all vegetables into a slow cooker
Top with seasonings and stir
Pour in liquids and stir
Cook on low for 8 to 10 hours
For the last half hour, turn the crock pot to high and add the pasta, stirring well. Before adding the pasta, the soup will be quite thin. The pasta will thicken it up quite a bit. Add more broth or water to desired consistency.