I LOVE pulled pork. If it's on a menu, I'll probably order it. This weekend, we made our own pulled pork. YUM! Luckily, it makes quite a bit so we have a ton of leftovers!!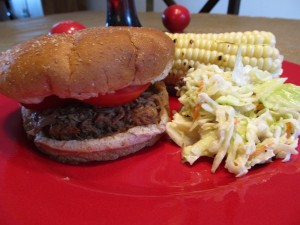 I started with a dry rub, but then cooked the pork in a homemade barbecue sauce. This recipe is portioned for a 4 lb pork shoulder. Adjust it accordingly for different sizes.
For dry rub combine:
3t salt
1 1/2 t pepper
1 1/2 t onion powder
3/4 t garlic powder
1 1/2 t cumin
1 1/2 t Chinese five spice
Rub this over the entire roast (don't just sprinkle it on, but rub it in), and put it in a slow cooker.
For sauce, combine:
1 can (14.5 oz) garlic flavored, fire-roasted diced tomatoes
1/4 C brown sugar
1 C ketchup
2 T Worcestershire sauce
2 splashes liquid smoke
1/4 C molasses
2 T apple cider vinegar
1 1/2 t onion powder
1 t Chinese five spice
1/2 t cumin
1/2 t pepper
Pour this over the entire roast and cook on low for 10 hours. I like to do this the day before. Once it's done, remove roast and shred it with two forks. Then using a strainer, pour the juices over the shredded meat. I like to strain it to get out the tomato chunks and the fat globs. Eww to fat globs.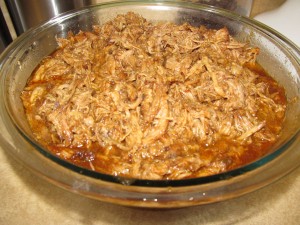 The next day, pour the entire mixture back into the slow cooker and cook it on low for about 3-4 hours, or until it is warm. Now serve the pork on a bun.