Much of my love for cooking and baking came from my mom. I remember spending hours as a child sitting across from her at the breakfast bar watching her cook. Here is a delicious recipe she came up with, written in her own words.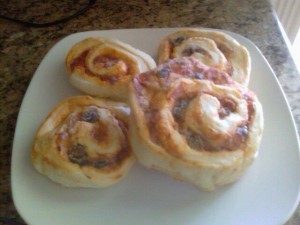 Make one recipe of sweet roll dough.  Here is the recipe I used, taken from the Better Homes and Gardens New Cook Book: (However, I have changed the recipe a little bit, and wrote the instructions in my own words, to make them more fool proof.)
 1 pkg active dry yeast
1 T sugar
¼ cup warm water
1 cup milk
¼ cup sugar
¼ cup shortening
1 teaspoon salt
3 cups flour (approximate)
1 egg
Mix the yeast, warm water and 1 T sugar in a small bowl.  Set aside while working with other ingredients.
In a large bowl, mix milk, ¼ cup sugar, shortening and salt.  Microwave about 1 ½ minutes, as your microwave dictates.  Let cool until it just feels warm.  With a wooden spoon, mix in 1 ½ cups flour, beating well.  Add the egg and beat well.  Pour in the yeast mixture and beat well.  Add flour until a thick batter results.  Stir from the bottom up until it is well mixed. (You may want to use your fingers a bit, but this dough is not as firm as bread dough.)
Cover, and let rise in the bowl for 1 ½ to 2 hours, until doubled in volume.  On a lightly floured surface, roll out the dough to a thickness of about ¾ inches. Spread with pizza sauce, and top with whatever pizza toppings you like.  I used miniature pepperoni rounds, sliced black olives and chopped fresh mushrooms. Top with grated mozzarella cheese.  Roll up as for cinnamon rolls, and slice into 1 inch slices, placing the ends pieces cut-side-down, and the rest of the pieces any way you want (they're both cut sides – don't be silly!) on a baking sheet sprayed with no-stick spray.  Cover and let rise for about ½ hour.  Bake in a 375 degree oven for 15 to 20 minutes, until golden brown.