We're big fans of food storage in our house for many reasons. One, it's good to be prepared in case of an emergency. Two, it's good to have options for dinner if I can't make it to the store. Three, I'm a big fan of buying things on sale, and when a sale is good enough, I stock up.
We keep our food storage in the basement on shelves. I try to keep track of how much we have of each item. When we use about half of our stock, I start looking to replenish.
Here are the food staples we keep  in our house.
Cooking Staples: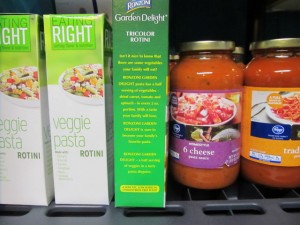 Pasta (all shapes and kinds)

Pasta Sauce – With Pasta and sauce, you always have a quick dinner
Beans – Because I have a picky husband, we pretty much only buy black beans, but buy whatever your family will eat.
Canned tomatoes – These are great for pasta, soups, or even over chicken
Frozen or canned corn – Again, great for soups or a quick side-dish
Onions and garlic – A match made in heaven! This can make a quick dish taste even better
Tomato sauce
Chicken and beef broth
Brown rice
Ground meat – We get turkey, but beef, chicken or pork can be used basically the same way. I buy this in bulk and separate it into 1/2 lb portions to freeze.
Chicken – I only buy this when it goes on sale and I freeze it (boneless, skinless breasts) in individual servings.
Frozen Fish
Carrots
Cheddar Cheese – Cheddar lasts a long time.
Olive Oil
Balsamic Vinegar – I add this to soup, pasta, sloppy jos, meatloaf, chili, etc.
Baking Staples: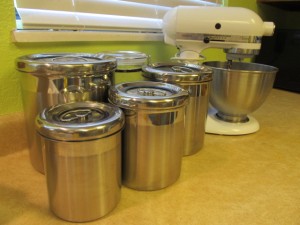 All-purpose flour

Granulated Sugar – I buy my flour and sugar in 25-50 lb bags. Then I store them in large buckets.  If you don't have buckets, call your local bakery and ask if they have spare frosting buckets they want to get rid of.
Brown sugar
Powdered sugar
Butter
Eggs
Cinnamon
Chocolate chips
Pure vanilla extract
Buttermilk – This lasts so long and makes cakes and breads so much better!!
Baking powder
Baking soda
Oats – We also have these on hand for oatmeal
Raisins/Craisins
Pure Almond extract
Pecans – Store these in the freezer so they last longer. This is true for other nuts as well.
Cornmeal
Cake Mixes – For quick cookies. Because we've all had moments where we need an immediate treat.
Vegetable or Canola oil
Kid Staples: We always try to have healthy snacks we can take on the go.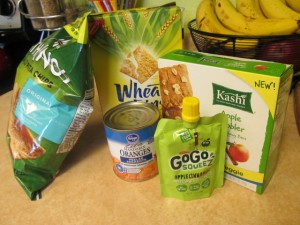 Natural peanut-butter – This is of course good for sandwiches, but my son also uses this as a dip for pita chips, or in a banana smoothie.

Apple Sauce – In the jar, in pouches or in individual cups
Canned mandarin oranges – Make sure to buy canned fruit stored in fruit juice and not syrup whenever possible.
Granola bars – This is another thing I only buy on sale and stock up.
Popcorn – Buy the small microwave bags. One small bag (an individual serving) feeds both my kids.
Whole-wheat crackers or pita chips – These also often go on sale and are a great alternative to potato chips.
Dried-fruit chips – My kids prefer apple and sweet potato chips. We buy these in the bulk food section when they go on sale.
Whole-wheat bread – My favorite brand is pretty expensive, but goes on sale often. When it does, I buy four loaves and freeze three.
Cereal – Another "only buy on sale" item. I've been able to switch my children almost completely to organic, all-natural cereal without breaking the budget. Store cereals in order according to expiration dates.
Bottled Water – This is good for both kids and adults. We generally just use our reusable water bottles, but it's good to have pre-bottled water around for emergencies… or if I forget to wash the kids' water bottles.
Fruit (duh) – I stock up on whatever is on sale and keep it in bowls on the counter. That way, when they want food, they see the fruit first. I'm like an evil genius! Maybe genius is going a bit too far.
What are your favorite must-have items in your pantry?