This recipe comes from the Pioneer Woman, Ree Drummond. If my husband has to work late, the kids and I always watch Pioneer Woman on the Food Network. They saw these cookies, and both decided we needed to make them immediately. They are AMAZING!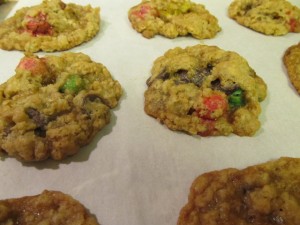 Ingredients
2 sticks (1/2 pound) salted butter, softened
1 1/2 cups brown sugar, packed
1/2 cup white sugar
2 whole large eggs
1 tablespoon vanilla extract
1 1/2 cups all-purpose flour
2 teaspoons kosher salt (Note: After reading reviews, I used 1/2 t plain old salt).
1 teaspoon baking powder
1/2 teaspoon baking soda
1 1/2 cup oats (either quick or regular)
1 cup chocolate coated candies, such as M&M's (Note – I used 3/4 C peanut butter M&Ms and 3/4C pretzel M&Ms. AMAZING!!!).
3/4 cup chocolate chips (milk or semisweet)
1/2 cup pecans, chopped (Note – I used walnuts… just because they are cheaper 🙂 ).
2 1/4 cups rice cereal, such as Rice Krispies
Directions
Preheat the oven to 375 degrees F.
Cream the butter with both sugars in a mixing bowl until fluffy. Add the eggs one at a time, beating well after each addition. Add the vanilla and beat.
Combine the flour, salt, baking powder and baking soda. Add to the mixing bowl and mix until combined.
After that, add in the oats, chocolate candies,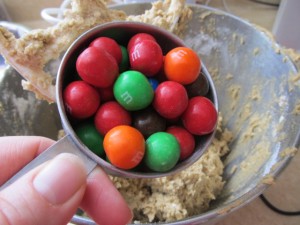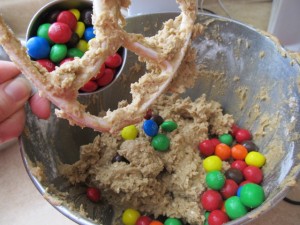 chocolate chips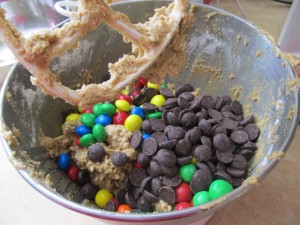 and nuts.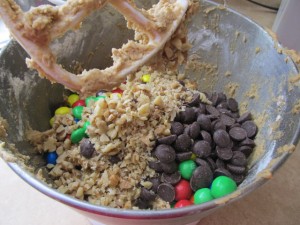 Add the cereal, mixing until just combined. Do not over mix! We ended up using a wooden spoon to combine all the goodies in.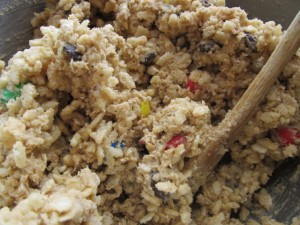 Use a cookie scoop to scoop balls of dough onto a cookie sheet. Bake until golden brown, about 20 to 25 minutes, and then allow to cool on a rack. While Ree used a full ice cream scoop (part of the reason they are called "Monster Cookies" ), we used a small cookie scoop and put them on wax paper and into the freezer to set.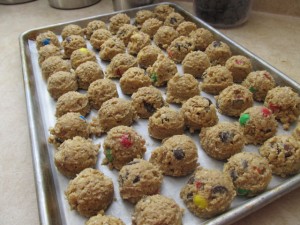 Once the cookies were frozen we put them in a freezer bag and put them back in the freezer.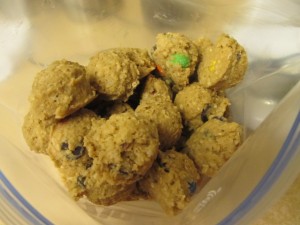 To bake them, just let them sit on a cookie sheet lined with parchment paper for about 30 minutes, or until defrosted. Then bake them (the smaller version) for about 10 minutes. These cookies really spread, so give them some space.