Here is an EASY way to make adorable cupcakes for a birthday party. My daughter, bless her heart, always has grand ideas when it comes to cupcake decorating. She thinks I'm magic and can make anything out of cupcakes. Boy is she wrong. Sadly, I never mastered the art of rolling out or painting on fondant (though I'm not too sad because fondant really isn't that delightfully delicious). These cupcakes are instantly recognizable as Minnie Mouse and easy enough for my kids and I to make together.
Start out with a frosted cupcake (another great part of these. You can start with a box mix and can of frosting or even buy pre-frosted cupcakes from a bakery.
Now lay out enough large Oreo cookies for each cupcake to have one, and enough mini Oreo cookies for each cupcake to have two.
Take a little frosting, color it pink and put it in a piping bag with a small round tip (or fill a sandwich-size Ziploc bag with the frosting and snip a tiny tip in the corner). Make a bow on the top of the large Oreo by making two triangles lying on their sides. This is the most complicated part of the cupcakes. If you get through this part, it's all downhill from here.
Place the large Oreo in the center of the frosted cupcake.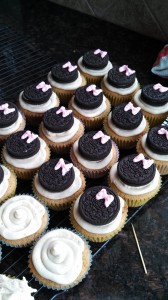 Add two small ones at the top for ears.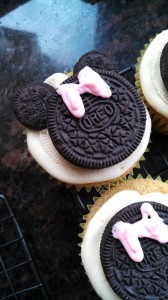 That's it!!! It's fast, it's easy and it will make kids happy. If you are using mini cupcakes, you can use the mini Oreos for the head and large chocolate chips for the ears. Still adorable!!