My baby girl recently turned one. Since she is still too little to pick her cake, I decided to make a ladybug cake. I found a few online that looked really complicated and used fondant. Since my cake decorating skills are less than stellar and no one-year-old likes fondant, I decided to make my own design. It's so easy and came out adorable. Plus, my one-year-old thoroughly enjoyed it. SUCCESS!! (Instructional video at bottom.)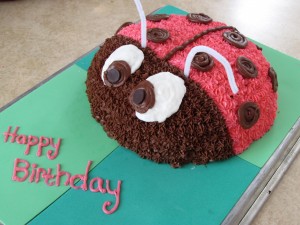 Start by making one batch of your favorite cake batter. Since I knew I'd be spending a long time decorating, I decided to take the easy way out and use a cake mix. Do whatever you can live with.
Spray a glass bowl with non-stick spray and cover it with wax paper or parchment paper. Spray the paper and pour in the cake mix. I used my 4-qt Pyrex bowl. Whatever brand bowl you use, make sure it is tempered glass. All Pyrex bowls are tempered. Bake in a 350 degree oven for 55-60 minutes or until a skewer comes out clean.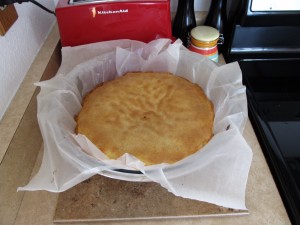 Let the cake cook in the bowl. Invert it onto a cooling rack and peel off the paper.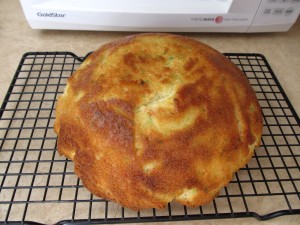 Make 2 batches of frosting and split them in half. Split one half in half again.  The smallest two will be white and brown (or black if you want a traditional ladybug). The largest will serve as the body, which I turned pink.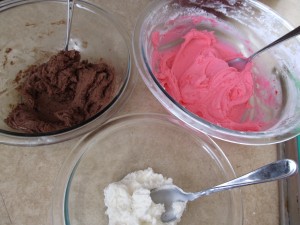 "Glue" (with white frosting) four rectangles of green foam craft paper on the bottom of a half sheet pan. This will serve as the base.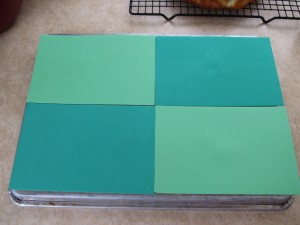 Cut the cake in half horizontally and put the bottom layer on the base.  Spread the bottom layer with white frosting and put the top back on. You're basically turning it into a layer cake.
Using a star tip, pipe 1/3 of the cake brown and 2/3 pink.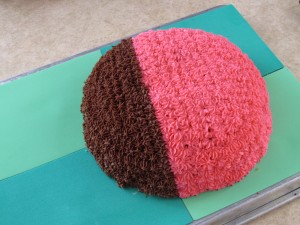 Using a large round tip, pipe 2 large, white circles on the face for eyes. Add two brown circles a little smaller for the iris of the eyes and stick on two jumbo, dark chocolate chips for the pupils.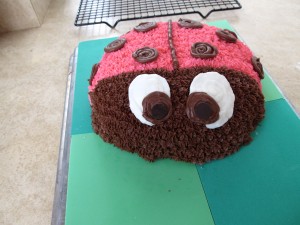 Using the same round tip on the brown frosting, pipe a line down the middle of the pink and put spots wherever you like.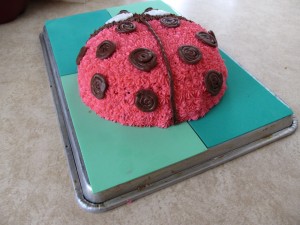 Cut a white pipe-cleaner in half and insert between the brown and pink. Bend them with your finger for antenae.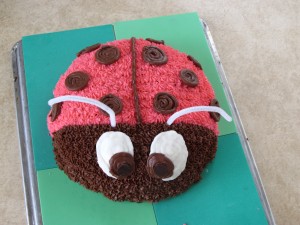 Pipe "Happy Birthday" on the base.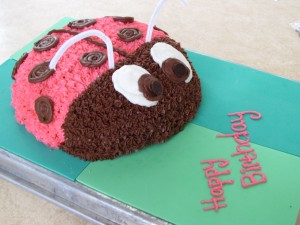 That's it! The piping takes time, but it's so easy, especially for the non-artistic (ME!). Watch this video of me making my daughter's ladybug cake.