Because I love to cook and bake so much, it's important for me to involve my children. Also, with the world's pickiest eater as my son, he's often more willing to try a food, if he helped prepare it. Here is a simple gesture, that helped my son get excited about getting in the kitchen with me to cook.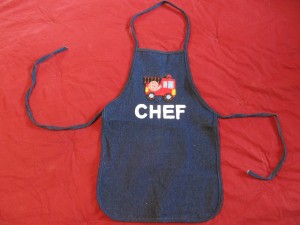 All I did, was purchase a pre-made children's apron at a craft store for $6. I added an iron-on patch (that he picked out) to the front for $2.50. I then printed the word "CHEF" from a word processing program. I taped the printed sheet to a piece of cardboard (I used the flap from a shipping box) and cut out the letters using a box knife. I used this as a rough stensil to paint the letters in fabric paint ($1). So for under $10, I made my son his own apron. Now when I'm in the kitchen he says "Mom! I need my apron!" and joins me in whatever I'm doing.
If you are good at sewing (which I am not), you could make your own apron and save even more money. The point is, to find a way to involve your children. My son also has a small rolling pin he likes to use to help me roll out cookie dough. Cooking with your kids may make the process take a little longer, but it's a great way to teach kids and build great memories.