I love my Crock Pot! I love it so much, I made my husband fight hordes of people the minute Target opened on Black Friday to secure me a second Crock Pot. I may be exaggerating a small bit. Apparently the hordes of people were more interested in the TVs and blue ray players than they were in the $20, red Crock Pots. Weird. I'll never understand people.
The reason I love Crock Pots so much is because of recipes like this. This is a delicious, hearty soup that's so easy to put together. Plus, when it's dinner time, dinner is already made. It's like being a care-free kid again… almost.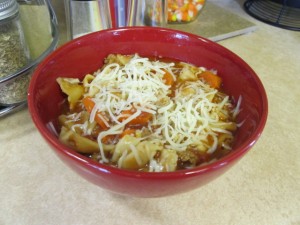 In a skillet, brown together:
1 lb ground Italian sausage (any flavor)
1/2 an onion
Once the sausage and onion have cooled a bit, put them in a slow cooker and add:
2 cans Italian diced tomatoes (14.5 ounces each)
1 large container (2 lbs) beef broth
2 C water
2 cans (15.5 oz each) Great Northern beans, drained and rinsed.
2 carrots, chopped
2 t Italian seasoning
Cook this on low for 8 hours, or high for four hours. In the last half hour of cooking, add:
1/2 lb small pasta (I use Farfalle)
Once the pasta is tender, serve the soup! Top it with a little grated mozzarella cheese.