A few weeks ago, I made banana cupcakes for a friend's event. That morning, I started gathering supplies only to realize, I had forgotten to buy extra bananas the week before so they would be over-ripe for my cupcakes. I had plenty of nearly-ripe bananas, but banana breads and cupcakes just aren't as good if the bananas aren't so ripe they're almost inedible.
I did some research and discovered how to make my bananas over-ripe. I was skeptical at first, but now I'm another witness that this works! I'm not mentioning a specific site, because I found these instructions on many websites (with varying times and temperatures), most of which were "question-and-answer" websites, like Yahoo Answers. Here is what worked best for me.
I preheated my oven to 300 degrees and lined my bananas up on a cookie sheet.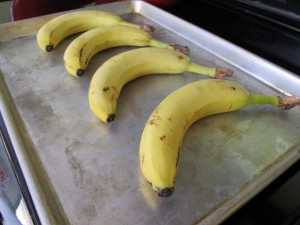 Once the oven hit 300 degrees, I put my bananas in and watched the magic happen. I was prepared for exploding bananas or an over fire, but neither happened. My bananas seeped out a little, but not enough to affect anything.
I pulled the bananas out after 45 minutes, at which point they looked like this.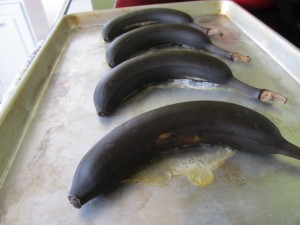 After they cooled for about 30 minutes, I pulled back the peel and found perfectly ripe bananas!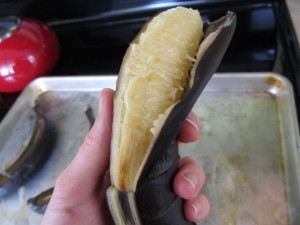 As I mashed my bananas, I noticed the consistency was a little stringier than normal, but this didn't change my cupcakes at all. In the future, I'll try to be more prepared to save myself having to wash one more pan, but it's nice to know the world can still go on, even if I have no over-ripe bananas.