Everyone has a favorite pie crust recipe they claim is the best. Rather than post another recipe, I thought I'd just post some tips to make any pie perfect.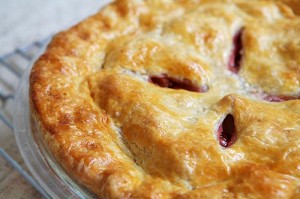 To make a great pie, it's important to know more than just the ingredients. I've met people who say they can't make a pie from scratch, no matter what they do. Here are some tips guaranteed to make your pie crust better no matter what recipe you use.
Use very cold ingredients: Using cold ingredients keeps the dough flaky. Keep fats and liquids as cold as possible. Whether you are using butter, lard or a combination, keep it cold. I like to measure it out, cut it into half inch (ish) squares and put it back in the freezer until I'm ready to add it. If I'm using a vinegar or ice water for the liquid, I put it in the freezer for about 15 minutes before I use it.
Handle the dough as little as possible: Whatever method you use to combine the dough (pastry cutter, forks or food processor), only mix it until it's combined. The consistency will be similar to a very coarse flour but when you pinch a piece with your fingers, it will stick together. I don't recommend mixing it with your hands as the heat from your body will melt the butter.
Touching it as little as possible, form dough into disks (two if making a double crust pie, one for a single crust pie). Wrap the disks in plastic wrap and refrigerate them for at least 30 minutes.
Dust your surface lightly with flour before rolling out dough. Roll from the middle out rather than back and forth. This works the dough less, leaving it flakier.
Get an offset spatula! I LOVE this for making pies. If I have to make a pie without it, I get very grumpy. Once your dough is rolled out. Run the spatula between the dough and the rolling surface to release the dough. This keeps the dough from breaking.
Once the dough is in the pie pan, brush the bottom with a beaten egg white. This keeps the bottom of your pie from being soggy. After your pie is assembled, brush the top crust with the remaining egg wash and sprinkle it with a little sugar.
Cut 3 or 4 slits in the middle of the top crust to allow steam to escape.
Get a pie crust shield. This is another tool I have to have for making pies. I spent years trying to make them out of aluminum foil (which lead to a lot of screaming and throwing of balls of foil), until my wonderful sister surprised me with a crust shield. This keeps the edges of your shell from burning while the rest of the pie bakes.
When baking your pie, start it out on the bottom shelf of the oven for the first 15 minutes of the baking time. Then move it to the top shelf. This makes sure the pie is evenly baked.
If you claim you can't make a pie crust, try again using these tips. If you do make pie crust, try this to make it even better. Good luck!