This is possibly my favorite meal to make. I often make it on my birthday (when it's during the week. I really do have a great husband who takes me out for my birthday on the weekend). It's so delicious and a different way to make chicken. Plus, it has curry, which is one of the best inventions of all time.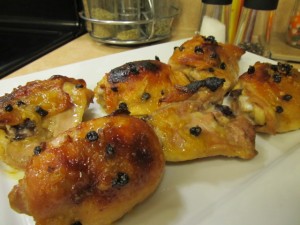 The recipe calls for one whole chicken, cut up, but I just use six chicken thighs because they're cheaper. Feel free to use whatever cut you like.
In a skillet, saute:
2T butter
2T olive oil
1/4 chopped onion
1 clove minced garlic,
1/2 t salt
1 t curry powder
Once the onion and garlic are cooked, add:
1/2 C honey
3T Dijon mustard
2T mango or peach chutney (I used apricot jelly this time, because that's what was in my pantry)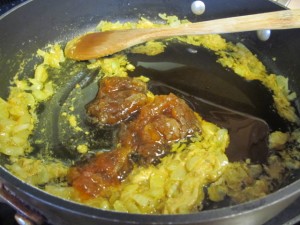 Put your chicken in a 9×13 baking dish and pour the honey-curry mixture on top.
Top with 1/3 C currants and toss the mixture with your hands. I know a lot of people are grossed out by the idea of touching raw chicken, but as long as you wash your hands well after, you should be just fine. Maybe it comes from being a mom, but it takes a lot more than this to gross me out.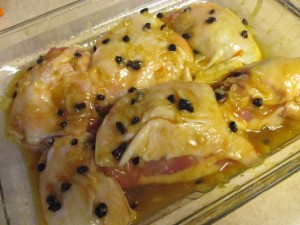 Bake the chicken at 350 degrees for about an hour and 20 minutes.
Put the chicken on a platter and cover it with foil to keep it warm.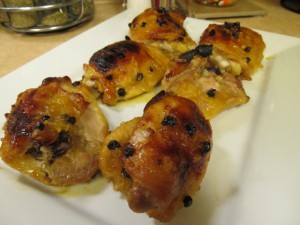 Heat the remaining sauce in a sauce pan with about 2T cornstarch. Cook it until it thickens.
I like to serve the extra sauce over rice and veggies and a little more over the chicken.