When I asked my daughter what she wanted for her birthday dinner, she was very specific: hot dogs, mac and cheese, corn on the cob and oranges.
Because I've been a mom for a while (to one who is a very picky eater), I'm so tired of boxed mac and cheese, I could scream. In order to omit the screaming on my daughter's birthday, we made homemade mac and cheese. This was a nice change. I doubled the recipe, because we had guests for dinner, but I'll post the instructions for the single recipe. Just know, the pictures are of the double recipe.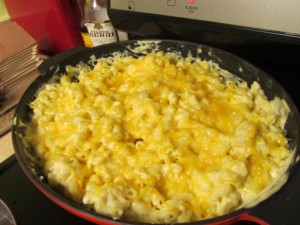 Start by cooking one pound of past according to the directions on the box. Because this is macaroni and cheese, we used macaroni noodles. We've also used penne, rigatoni and shells. So use whatever you have or whatever you like.
Next, make a roux. We've talked about a roux before. Again, it's just a fancy word for cooking flour and fat together. In a large saucepan, combine:
Cook this on the stove over medium heat until it's well combined and a light caramel color. Stir in:
3 cups half and half (or milk if you want to reduce the fat) and cook until it's very thick.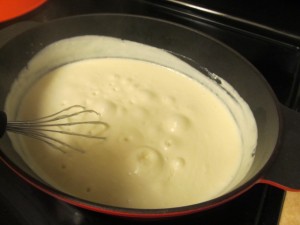 Stir in:
Remove this from the heat and stir in:
3 cups shredded cheddar cheese.
Stir in the pasta and top the whole thing with shredded Colby jack cheese. That's it! We all thoroughly enjoyed my daughter's birthday.