Lately, I've taken a closer look at the nutrition facts on the food I feed my children. I always just assumed granola bars were "healthy." As I looked at the label the other day, not only were there too many ingredients I couldn't pronounce, but there were way too many forms of sugar, including several forms of high fructose corn syrup. And this is what I'm feeding my kids!? After looking at many granola bar recipes, I decided to make my own granola bars which were very well received by my children (particularly my picky one).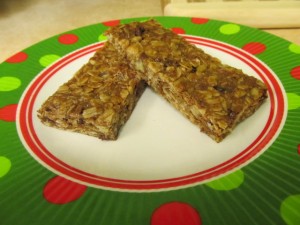 Because I have a picky eater, I took him up and down the bulk food isles in our local health-food store. I let him pick out what we'd put in the bars (with the exception of the salt water taffy. I had to draw the line somewhere), and then both children were very involved in the making of the granola bars.
Now my nearly six-year-old son (the picky one) says, "Mom. These are so delicious! I just can't ever stop eating them!" You have to realize, my son talks like he's 40. Here is how we put these bars together.
Start by toasting the oats. Melt 3T butter and add 2T oil. Toss this with 4C whole oats and spread the oats on a baking sheet. Bake them at 350 degrees for about 15-20 minutes. Give them a shake every five minutes or so, so they don't burn.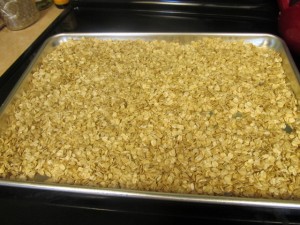 On the stove, in a saucepan, cook:
1/2 C brown sugar

3/4 C honey
1/4 C  all natural juice (we used apple raspberry juice, but use what you have)
Let this boil for about a minute or so, and then remove from heat and stir in:
1/2-3/4 natural peanut butter (This measurement isn't exact because I refuse to measure peanut butter in a measuring cup. It's way too messy!)
Now prepare the remaining ingredients: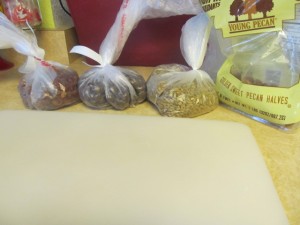 1 C wheat germ

1/4 C ground flax seed
1/2 C chopped pecans
1/4 C chopped almonds
1/2 C sunflower seeds
3/4 C chocolate raisins, roughly chopped (my surrender to my son)
Now mix all the dry ingredients together and stir in the cooked liquid.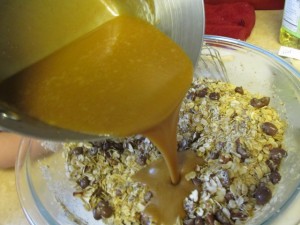 Spread this onto a cookie sheet lined with parchment paper. I wanted my bars thicker, so I didn't go all the way to the edge. Remember, these won't rise or spread at all.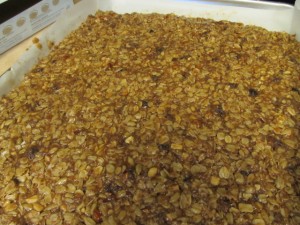 Bake them at 350 degrees for about 20 minutes. Allow these to cool completely, then transfer from the parchment paper to a large cutting board. Cut these with a pizza cutter into 24 bars.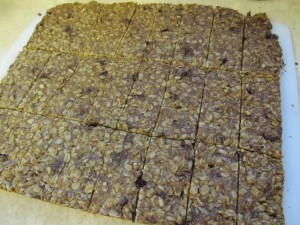 Store them in an air-tight container, in layers separated by wax paper, in the refrigerator. When we're going to the park or on a hike, I wrap individual bars in plastic wrap and stick them in the backpack.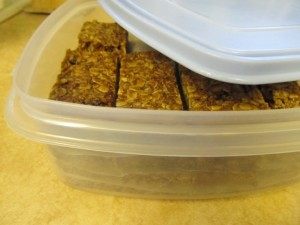 I wanted to see how my bars compare to others on the market so I figured out the nutritional facts I was interested in (aside from the ingredient list).
Per bar:
Calories:225

Fat: 11 grams
Protein: 5 grams
Fiber: 4 grams
The nutrition facts are similar (given that these are equivalent in size to a nice protein or fiber bar and about twice the density of a Quaker Chewy bar) to a traditional granola bar, but they are very filling and I feel good about the ingredients in them. Plus, as usual, making them from scratch saves money compared to buying them in a grocery store.
Feel free to customize yours with whatever nuts, fruits, or candies (salt water taffy anyone?) you like. Just be sure the keep the ratio of dry to wet ingredients similar to mine.