We're big fans of Harry Potter in our house, so we were very excited when we found a recipe for one of their favorite drinks in the book; Butterbeer. The recipe calls to serve it cold but I prefer it hot.
Butterbeer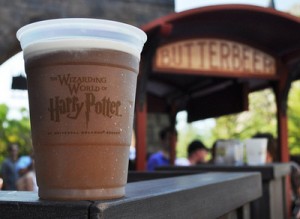 Ingredients:
1 cup light or dark brown sugar
2 tablespoons water
6 tablespoon butter
1/2 teaspoon salt
1/2 teaspoon cider vinegar
3/4 cup heavy cream, divided
1/2 teaspoon rum extract
Four 12-ounce bottles cream soda
Directions:
In a small saucepan over medium, combine the brown sugar and water. Bring to a gentle boil and cook, stirring often, until the mixture reads 240 F on a candy thermometer.
Stir in the butter, salt, vinegar and 1/4 heavy cream. Set aside to cool to room temperature.
Once the mixture has cooled, stir in the rum extract.
In a medium bowl, combine 2 tablespoons of the brown sugar mixture and the remaining 1/2 cup of
heavy cream. Use an electric mixer to beat until just thickened, but not completely whipped, about 2 to 3 minutes.
To serve, divide the brown sugar mixture between 4 tall glasses (about 1/4 cup for each glass). Add 1/4 cup of cream soda to each glass, then stir to combine. Fill each glass nearly to the top with additional cream soda, then spoon the whipped topping over each.
This is the original recipe, but I changed it a bit to make it a little healthier.
Use 3 T butter rather than 6.
Use skim milk rather than heavy cream.
Skip the special cream topping.
If you're going to serve it hot, cut the amounts in half when mixing an individual serving (1/8 C brown sugar mixture and enough cream soda to fill a mug). Mix it together and heat in in the microwave.
This is a great hot drink to have at Christmas or a cold drink to have in the Summer. Thank you JK Rowling for a great drink!