As I've mentioned many times, I love my slow cooker. I love smelling dinner cook during the day. I love dinner being ready without having to do a ton of work. I love using my hectic, right-before-dinner time to sit down for five minutes (though that doesn't always happen).
Here is another quick soup that requires little effort, but tastes great.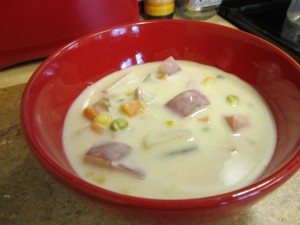 Start by making a roux with
6T butter
1/2 onion, finely chopped
1/2 C flour
A roux may sound fancy, but it's really just cooking flour and some form of fat (in this case, butter) until it becomes a uniform mixture. Cook the mixture for about three minutes, until it is a very light caramel color.
Add:
2 lb chicken broth and whisk until the mixture is thick. A good test is to dip in a spoon. If the broth coats the back of the spoon, and when you rub your finger across the back of the spoon, the broth doesn't drip, it's thick enough.
Pour the thickened broth into the slow cooker and add:
3 red potatoes, cubed into bite-size pieces
1 to 1 1/2 lbs ham, cubed into bite-size pieces
12 ounces frozen vegetables (I use a mixture of carrots, corn, peas and green beans, but use what you and your family like)
1 C water
Salt and pepper to taste
Cook this mixture on low for 4-6 hours.
In the last half hour of cooking, add:
1 qt (4C) half and half. It's best to add the half and half at this point because if milk cooks to long, it tends to separate, and lumpy soup would not make me love my slow cooker
Enjoy your soup!!!