I'm always looking for ways to make our favorite foods healthier. For years, I've searched for a healthy banana bread recipe. Every time I try one, my family and I are disappointed. I decided, we're just not ready to make the leap to fat-free, fiber-loaded organic banana bread. Therefore, I came up with a recipe we can live with. It has several changes to make it healthier than traditional banana bread, but enough of the traditional ingredients to make it worth eating.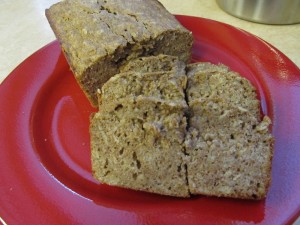 Cream together:
1/2 C softened butter
1/2 C sugar
Add:
5 egg whites (whip them a little with a fork to break them up a bit)
1 1/2 C ripe bananas (this was 5 bananas for me)
1 t almond extract
In another bowl, combine:
1 1/2 C whole wheat flour
1/2 t baking soda
1/2 t salt
2 t cinnamon
Add the dry ingredients to the wet and combine.
Stir in:
Pour this into one greased 9×5 loaf pan and bake at 350 for 50-60 minutes.
Enjoy!