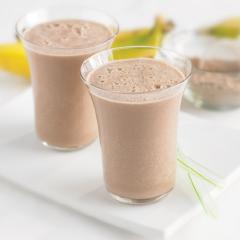 Growing up, my mom would occasionally make me a chocolate banana shake for breakfast. She did it the tradional way of using ice cream. Now that I'm older and have had two children, I can't have too many full-fat shakes. This weekend, I made a shake that tasted exactly the same as those shakes my mom made me, without the fat. Plus, with only three ingredients, it's super easy to make.
Ingredients:
1 frozen banana
8 oz cold fat-free milk
2 T chocolate drink mix
Directions:
 Peel banana and place in it a zip freezer bag. Let banana freeze. (P.S. Frozen bananas last a long time. Much longer than a regular banana).
Break frozen banana into pieces and blend it with milk and chocolate drink mix.
I used my wonderfully awesome immersion blender, but I'm sure the concept is the same in a regular blender. It's not quite as thick as if I'd used ice cream, but the frozen banana makes it a lot thicker than if I'd left the banana at room temperature. Next time, I think I'll add a tablespoon of peanut butter to the mixture. I'm sure you can use whatever chocolate mix you like, but I prefer the powdered kind. Pre-made chocolate milk would even work. I'm okay indulging in this, because really it's just a banana and a glass of chocolate milk.  I love finding treats I don't have to feel guilty about eating!