I sat down to blog a delicious recipe and realized… my camera is gone! Apparently, in my attempt to organize, I've lost my camera… with the pictures of my latest recipes. Perhaps I should research for a post on organization. Oh well. Until I find my camera, I thought I'd post one of my favorite recipes from allrecipes.com. Ironically enough, it's is called "Favorite Barbecue chicken." I use this BBQ sauce for everything! It's so much better than anything you can buy in a bottle and is pretty easy to put together. I've also bottled this sauce and given it away as gifts. It's great to use on chicken, pork or even hamburgers!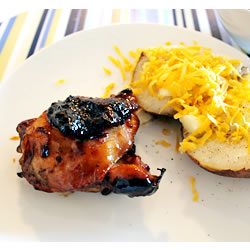 Ingredients :
3 Tablespoons olive oil
1/2 cup diced onion
4 cloves garlic, minced
10 Tablespoons ketchup
6 Tablespoons honey
6 Tablespoons brown sugar
4 Tablespoons apple cider vinegar
2 Tablespoon Worcestershire sauce
salt and pepper to taste
Directions:
Heat olive oil in a skillet over medium heat.
Saute onion and garlic until tender.
Stir in ketchup, honey, brown sugar, apple cider vinegar, Worcestershire sauce, salt, and pepper.
Cook for a few minutes to thicken sauce. Remove from heat, and allow to cool.
This is enough sauce for about four chicken breasts. Half it, double it, triple it; do what you need. Enjoy!