I love sweet potatoes in almost any form, but I think this is the best way yet. This recipe comes from Better Homes and Gardens. I only made one change to the recipe. The original calls for 17.2 oz canned, unsweetened sweet potatoes. I'm not sure where Better Homes and Gardens shops, but I've personally never found unsweetened sweet potatoes. Instead I roasted two sweet potatoes in the oven. Prick them with a fork and put them in a 400 degree oven for 45-50 minutes. Then just peel off the skins and whip them with a hand mixer. I weighed them after I mashed them and added the 17.2 ounces to the batter. You can peel, boil and mash them as well, but I think roasting them brings out more flavor.
Sweet Potato Cupcakes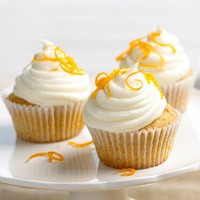 Ingredients:
2 cups all-purpose flour
2 teaspoons baking powder
1 teaspoon ground cinnamon
1/2 teaspoon baking soda
1/4 teaspoon salt
1 cup butter, softened
1 1/2 cups sugar
3 eggs
1 17.2 ounce can vacuum-packed sweet potatoes (unsweetened), mashed
1/2 teaspoon vanilla
1 recipe Cream Cheese Frosting, below

Finely shredded orange peel
Directions:
Preheat oven to 350 degrees F. Line twenty four 2-1/2-inch muffin cups with paper bake cups; set cups aside.
In medium bowl stir together the flour, baking powder, cinnamon, baking soda, and salt; set aside.
In large mixing bowl beat butter with an electric mixer on medium to high speed for 30 seconds. Add sugar and beat on high speed until light and fluffy, about 2 minutes. Add eggs, one at a time, beating on low speed after each addition until combined. Add sweet potatoes and vanilla, beating until combined. Add flour mixture; beat until combined (batter will be thick).
Divide batter evenly among prepared muffin cups. Bake about 20 minutes or until tops spring back when lightly touched. Cool in pan on wire rack for 1 minute. Remove from pan and cool completely.
Place Cream Cheese Frosting in large resealable plastic bag. Cut a 1/4-inch opening in one corner of bag. Pipe frosting on top of cupcakes. Sprinkle with orange peel. Makes 24 cupcakes.
Cream Cheese Frosting
Ingredients:
1 8 ounce package cream cheese, softened
2/3 cup butter, softened
1 t vanilla
8 cups powdered sugar
Directions:
In large mixing bowl beat cream cheese and butter with electric mixer on medium speed for 30 seconds. Add vanilla and beat until combined. Beat in powdered sugar, about 1/2 cup at a time, until smooth and of a good piping consistency. Makes 4-1/3 cups.