Every Christmas, my mom makes fudge. She boils it and whips it into the right consistency. While nothing compares to hand whipped fudge, here is a quick, easy fudge the helps cure that fudge craving.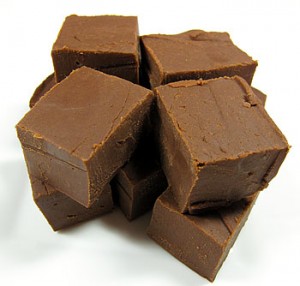 Ingredients:
1 can condensed milk
2 C baking chips
Directions:
Combine all ingredients in a microwave safe bowl.
Microwave 2-3 minutes, stirring every 30 seconds until completely melted and blended.
Pour into a 9″ square pan lined with tin foil.
Refrigerate 3-4 hours or until set.
My favorite chip combination is one cup chocolate chips and one cup butterscotch chips. Other great combinations are chocolate and peanut butter; white chocolate and butterscotch; and white chocolate and peanut butter. You can also stir in nuts or marshmallows.
This is great treat to make for a party, for gifts, or even when you are just craving something sweet. Enjoy your fudge!