This post is from my most loyal fan… (aka; my mom). She made these cupcakes few weeks ago and shared the idea with me. This is a great idea for a get together because it leaves you with two very different cupcakes without having to make two separate batters.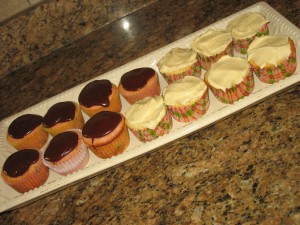 She started out with her favorite yellow cake batter. My mom is morally opposed to cake mixes (obviously I didn't inherit that trait) so she made her batter from scratch. But use a cake mix if you like.
Here are the rest of the instructions and pictures right from my wonderful mother.
Cupcakes Two Ways
Prepare cupcake pans by lining cups with paper liners. I ended up with 17 cupcakes.
Start with about 12 large maraschino cherries.  Reserve ¼ cup of the juice. Chop the cherries finely.  Put them into a bowl.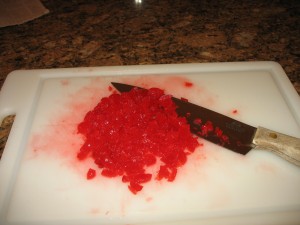 Then peel 2 fresh peaches.  Chop I ½ of the peaches, and puree the other ½ peach.  Add ½ t of lemon juice to the puree and place it in the fridge.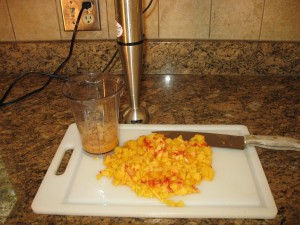 Divide your cake batter into two parts.  Mix 1 T of flour with each bowl of fruit (cherries and peaches).  Mix the peaches with on half of the batter.  To the other half of the batter, add the cherries, ¼ t almond extract and 6 ounces of chocolate chips or chunks.  I used dark chocolate chunks.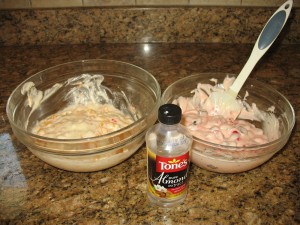 Scoop into cupcake liners and bake for 20 to 25 minutes at 350o.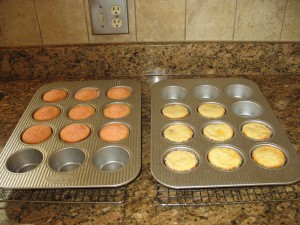 Cool completely on a wire rack.
Frostings:
Peach:
Mix ¼ cup softened butter, 1 t vanilla, the peach puree, and 1 ½ cups of powdered sugar.  Beat well.  Either pipe or spread on cooled peach cupcakes.
 Cherry Chocolate
In a small saucepan, melt ¼ cup butter.  Add 2 T cocoa and ¼ cup of the cherry juice. Cook until bubbling, and let bubble for about 1 minute.  Add 1 ½ cups of powdered sugar right into bowl and beat.  This will be runny.  Do not try to thicken it up, because this sets as it cools.  Simply spoon a heaping teaspoon into the center of each cupcake.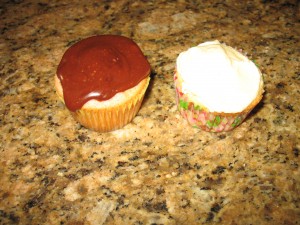 Thanks for the idea, Mom! I'm excited to try it!!