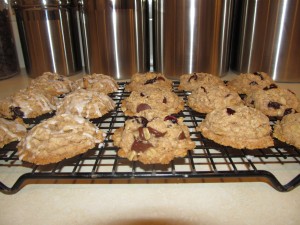 This week in our house, we are potty training. Because of that, we can't leave the house. Not only that, but after 2 days of solid rain, we can't even play outside. To keep our sanity, we decided to make cookies.
Cran-Cherry Oatmeal Cookies
Ingredients:
1 white cake mix (yellow would work as well)
2 C quick oats
2 t cinnamon
3 egg whites
2/3 C vegetable oil
1/2 C dried cherries
1/4 C dried cranberries
Directions:
Preheat oven to 350 degress F
Whisk together the cake mix, oats and cinnamon
Stir in egg whites and oil
Add dried fruits
Spoon dough by the teaspoon full onto a cookie sheet lined with parchment paper or a silicone pad
Bake 9-13 minutes
Makes 2 1/2 to 3 dozen
While I think these cookies are delicious as they are, we tried 2 variations that I think are also delicious.
We topped the second batch with a glaze. All we did was mix 1/4 C powdered sugar, 2 t milk and 1 t almond extract. Then we used a spoon to drizzle them over the cooled cookies. The glaze made enough to generously glaze 12 cookies.
With the last batch (9 cookies), we added 1/4 C bittersweet chocolate chips.
I think all three are pretty delicious, but my favorites were the glazed ones.
These cookies are great dunked in a hot beverage.