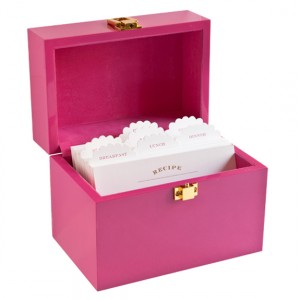 As I stated before, I like to get an early start on my Christmas gifts. One great Christmas gift is a collection of recipes. This can be in the form of a homemade cookbook, a box of recipes on cards, or even an electronic compilation. Below are some ideas for how to organize these recipes.
Your favorites – Organize your favorite go-to recipes.
Family Recipes – Put together favorite recipes from immediate and/or extended family. This is a great gift for the whole family. This is also a great welcome present to a new member of your family (in-law, step-parent, etc).
Recipes from a family member – After my grandma passed away, I organize and typed up all her recipes for my family. At the beginning of the cook book, I included scanned pictures or her from her childhood on, and a brief history of her life. I personally will cherish this book for a long time.
Allergy cookbooks – We have a lot of allergies in my family. When we have family gatherings, I often have to search for recipes that exclude several ingredients. If you are in a similar situation, put together recipes free of ingredients a specific family member is allergic to.
Focus on one specific ingredient – I am obsessed with chocolate. If I had to pick one food to eat the rest of my life; it would be chocolate. I would love a cookbook, with recipes that all include chocolate. The same could be done with any favorite ingredient.
Kid's Recipes – Put together kid-friendly recipes for all the kids in your family.