Last year, I posted a recipe for peppermint bark. This year, I decided to try something new. I love bark because it's extremely easy, fun to change up, and delicious!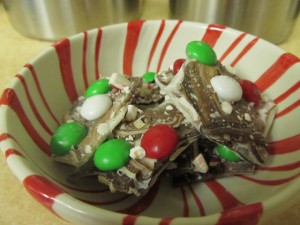 Start out by lining a cookie sheet with wax paper, and pouring one bag of white chocolate chips and one bag of milk chocolate chips into microwave-safe bowls.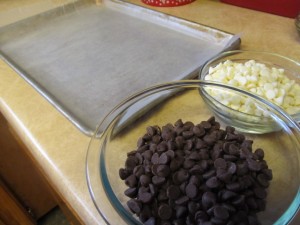 Then crush some peppermint candy. We used mini candy canes because they are the easiest to crush. Double bag about 15 candy canes and then pound them with a rolling pin. Be sure to get most the air out, or you'll have an explosion… like I did. OOPS! Don't worry if you have the same mishap. Just put the whole thing in one more bag and get back to smashing.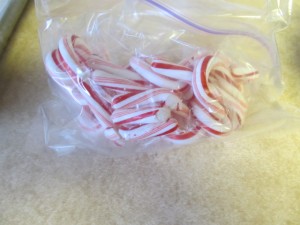 Then melt the chocolates in the microwave, stirring every 30 seconds until the chocolate is melted. Each chocolate took about a minute in a half.
Then dollop the chocolates alternately on the wax paper. Don't worry about being too precise  In the end, I just started throwing chocolate anywhere. It can't taste bad no matter how you distribute it!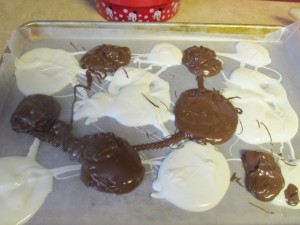 Then using a butter knife, spoon, spatula or whatever is flat and closest to you,  spread and swirl the chocolates together.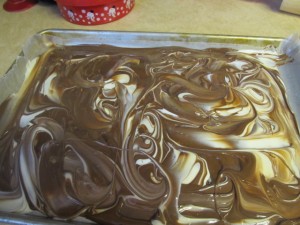 Next was the fun part, especially for my kids. Sprinkle the candy canes over the melted chocolate (do this as soon as the chocolate is spread. If it's too set, it won't stick). Then pout about 1 1/2-2 C mint chocolate M&Ms over the bark and press down gently with your hands.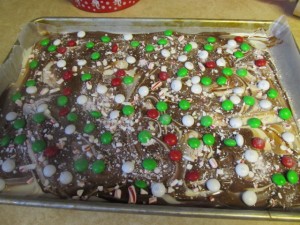 Stick the whole pan in the refrigerator for about 2-3 hours. Then just break it into pieces with your hands.
This is such an easy fail-proof candy that is perfect for Christmas!