This weekend, I made what I considered to be some wicked-awesome cupcakes. The cupcakes themselves were pretty good, but it was the frosting that made me want to dance and sing (thankfully, I don't have pictures of that part).
For the cake, use your favorite chocolate cake recipe (or a cake mix) and substitute 1/2 the liquid for maraschino cherry juice. Add 2t almond extract and stick a maraschino cherry in the center of each cupcake. Or if you have a super cool pan like I do (thanks great husband!), you can stick the cherry on the end of each skewer. Now the cake part is out of the way, let's get on to what is generally the best part of any cupcake; the frosting.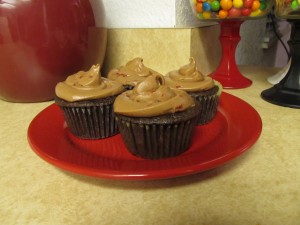 Start by melting 7 ounces of semisweet chocolate chips in the microwave, stirring after each 30 seconds.
Let the chocolate cool to room temperature and cream with 6T room temperature butter and 12 oz room temperature cream cheese.
Add 2t almond extract and 3T maraschino cherry juice.
Beat in 3C powdered sugar.
Finely chop 1C maraschino cherries and fold them into the frosting.
YUM!!!!!!! I could eat this frosting plain!!