Whenever my husband has an event he has to go to at night, the kids and I have a picnic/movie night in the family room, which always begins with us making treats. Yes, my poor husband misses out. But don't worry. We always save him a treat. Last week while he was working, we wanted to make cookies, but were too impatient to scoop cookies out  and bake them in batches. So instead, we poured all the dough in one pan and called them cookie bars. They were FABULOUS!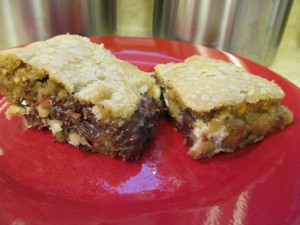 In a mixer, cream together:
1 C softened butter

1 C brown sugar
1/2 C granulated sugar
Add:
In a medium bowl, whisk together:
2 1/2 C bread flour

1/2 t baking powder
1 t baking soda
1 t salt
Slowly add the flour mixture to the wet ingredients and blend until just combined.
Here is where we got a little crazy. Add…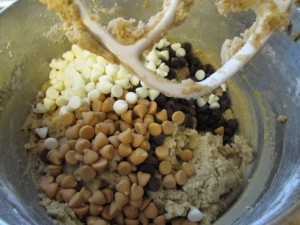 1/2 C chocolate chips
1/2 C white chocoalte chips
1/2 C butterscotch chips
3/4 C M&Ms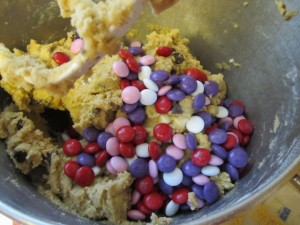 Spread this into a 9×13 pan and bake at 350 degrees for 20-25 minutes.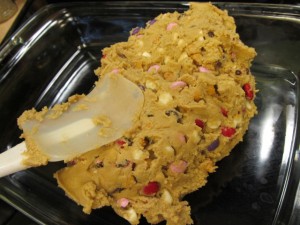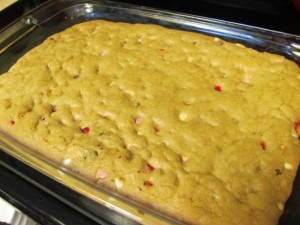 These taste as wonderful as a chocolate chip cookie, but are puffy and chewy. Plus they're much faster to make.