What's better than a chocolate cake? A chocolate cake with chocolate frosting. What's better than that? Adding cherry to both. Now, you have the perfect cake. Plus, this is a cake-mix recipe, so it's fast and easy as well.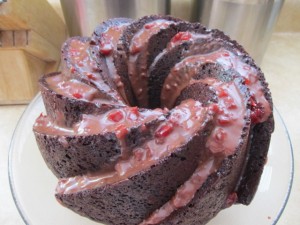 Start by combining:
4 eggs

10 ounces cherry yogurt (this is about one and a half of a single-serving yogurt container)
1/2 C maraschino cherry juice
1/2 C oil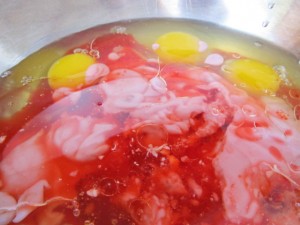 I took a picture here because my son said, "Take a picture! That looks like hot lava!" So, I guess you can decide for yourself what it looks like.
Once this is combined, beat in:
1 devils food cake mix
1 small box instant chocolate fudge pudding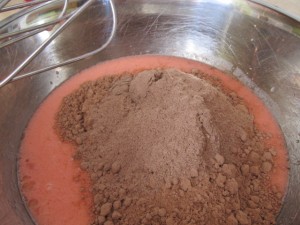 Stir in 1 1/2 C semi-sweet chocolate chips.
Um….
Pour the mixture into a greased bundt pan. I get very grumpy when I  make a beautiful bundt cake, but it's covered in white goo from the flour I used to grease the pan. To avoid this, I sprayed my pan with non-stick spray and dusted it with cocoa powder. I'm totally okay with cocoa residue sticking to my cake.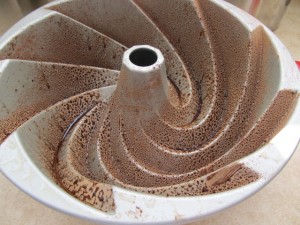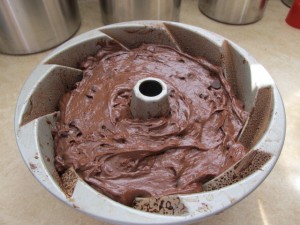 Bake this at 350 degrees for about 50 minutes.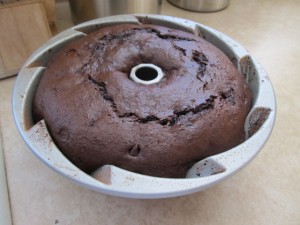 Once it's out of the oven, let it cool for a few minutes and then invert in onto a cooling rack to cool.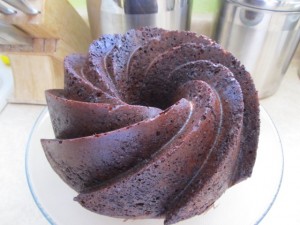 To make the AMAZING glaze….
In a medium sauce pan, combine:
1/2 C butter

2T cocoa powder
1/2 C milk
Cook this over medium heat. Bring it to a boil and let it boil for two minutes. Remove it from the heat and stir in:
While you're letting it cool a bit, chop up about 20 (or so) maraschino cherries
Once the chocolate mixture is cooled a bit, whisk in:
3 C powdered sugar

2-3T maraschino cherry juice
Fold in your chopped cherries. Let the frosting sit for about half an hour and then drizzle it over your cake. That's it. It was almost too pretty for me to eat. But then I got over that… and ate it.