This is one of my favorite recipes to make in a bind/when I'm craving something sweet and I'll go crazy if I don't get something! They are fast, easy and I usually have the ingredients on hand.
Cheesecake Brownies: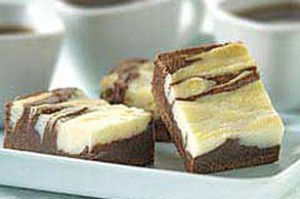 Ingredients:
1 (19.8 oz) brownie mix and all the ingredients to prepare it (I prefer Ghirardelli dark chocolate brownies. Mmmm… mmmm…. mmmmm)
1 (8 oz) package cream cheese, softened
1 egg
1/3 C sugar
Directions:
Preheat oven to temperature indicated on brownie mix.
Prepare the brownie mix as directed and pour into a greased 9×13 pan.
Using an electric mixer, combine the cream cheese, egg and sugar until smooth.
Dollop the cream cheese mixture on top of the brownie batter and use a knife to swirl.
Bake according to mix directions.
That's it! This is a great way to make a brownie mix a bit more homemade.