Today I'm posting a recipe that isn't my own, but it has become a regular in our house. Surprisingly, I didn't change anything (which is rare for me)!! It's so perfect, I can't think of any changes to make it better. The original recipe is from allrecipes.com (my go-to recipe site).
Grandmother's Buttermilk Cornbread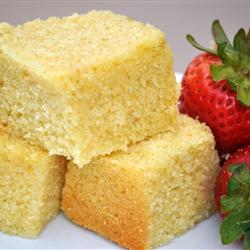 Ingredients
 1/2 cup butter
2/3 cup white sugar
2 eggs
1 cup buttermilk
1/2 teaspoon baking soda
1 cup cornmeal
1 cup all-purpose flour
1/2 teaspoon salt
Directions
Preheat oven to 375 degrees F (175 degrees C). Grease an 8 inch square pan.
Melt butter in large skillet. Remove from heat and stir in sugar. Quickly add eggs and beat until well blended. Combine buttermilk with baking soda and stir into mixture in pan. Stir in cornmeal, flour, and salt until well blended and few lumps remain. Pour batter into the prepared pan.
Bake in the preheated oven for 30 to 40 minutes, or until a toothpick inserted in the center comes out clean.
We serve this with BBQ chicken, beef kabobs, roast, etc. Here is a tip. If you don't have any buttermilk on hand, put 1T lemon juice in a one cup measure. Add enough regular milk to equal one cup and let that set for about five minutes. VOILA! You have buttermilk!… or a close approximation. I do this often as I don't generally keep buttermilk on hand.
I often bake mine in a 9″ scone pan with eight compartments. If you have a pan like this, use about 2T batter in each compartment. This is enough to make about 16 scones.
Enjoy!!