As far back as I can remember, my mom has made Braided Cinnamon Bread for every Christmas morning breakfast. Because it's so awesomely-delicious, I decided to extend that tradition and we have it for Christmas and Easter morning. Maybe I should also add it to Thanksgiving, Valentine's Day and possibly Tax Day. Really any excuse to eat it suits me just fine.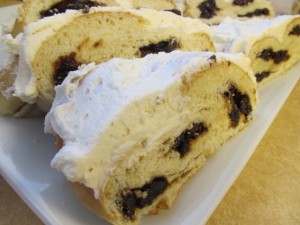 First start with a basic roll dough. Because I like to do things the simple way, I just use the roll recipe that came with my bread maker… and then make the dough in my bread maker. My mom uses the recipe from the Red and White Better Homes and Gardens cookbook.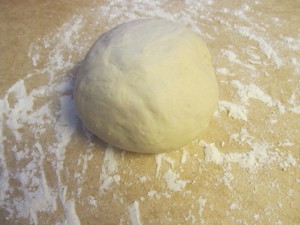 After the dough is prepared, roll it out into a rectangle (about 8×15 ish. Really, I've never actually measured). Split that rectangle into three pieces, lengthwise.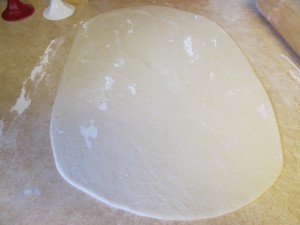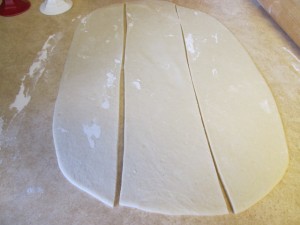 Spread melted butter over each piece of dough. In a small bowl, combine about 1/2-3/4 C sugar with 1 T cinnamon. This is where my mom and I differ. My mom uses white sugar and I use brown. The brown sugar gives it more of a caramel flavor while the white sugar is a classic cinnamon roll flavor. Just do it according to your taste. It bakes the same regardless of what you use. I just always want an excuse to add more brown sugar to something.
Sprinkle the sugar/cinnamon mixture over each section of dough.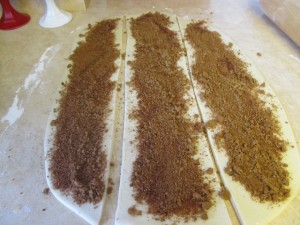 Sprinkle with about 1/3 -1/2 C raisins. The amount doesn't matter. If you like raisins, add more. If you aren't a huge fan, add less.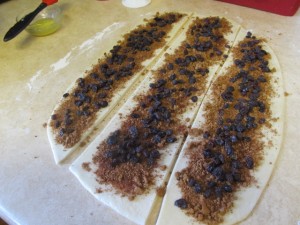 Pinch each section of dough together to make three long ropes.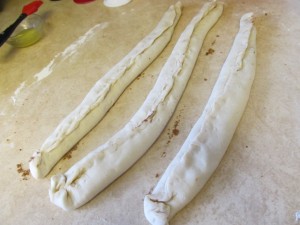 Transfer the ropes to a large, greased cookie sheet, seam side down. Pinch the ropes together at the top and braid them. For some reason, I find this process to be quite fun, which explains why my daughter often has several braids in her hair. Cover the bread with plastic wrap and let it rise until it doubles in size (about 45 minutes or an hour).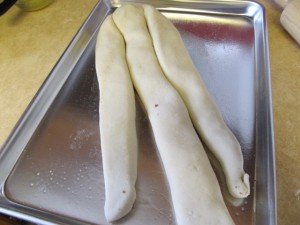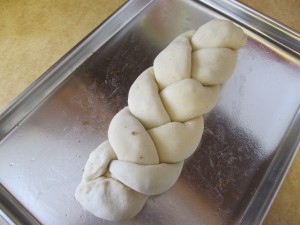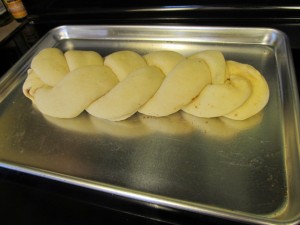 Bake the bread at 350 degrees for 20-30 minutes. As soon as it comes out, brush a little more melted butter on the top.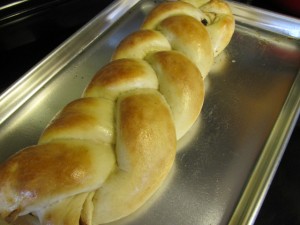 Once it's cool, top it with whatever frosting you like. I either use a classic butter cream or a cream cheese frosting. A glaze would also be delicious but I'm always up for adding frosting.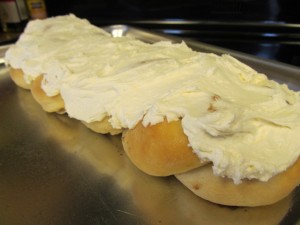 Cut it into slices and serve! 🙂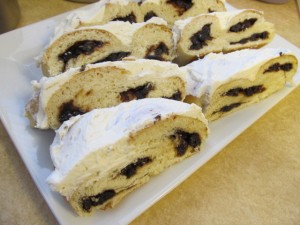 Braided Cinnamon Bread
Ingredients:
1 batch roll dough
1/4 C melted butter
1/2-3/4 C white or brown sugar
1T cinnamon
1/3 C raisins
1 batch frosting of choice
Directions:
Prepare one batch roll dough
Roll dough out into an 8×15″ rectangle
Cut dough into three equal strips lengthwise
Spread melted butter over dough
Combine Sugar and cinnamon in a small bowl
Sprinkle cinnamon sugar mixture over dough strips
Sprinkle with raisins
Pinch dough strips together to form three long ropes
Transfer ropes to a greased baking sheet (seam side down) and braid
Cover and let rise until doubled in size
Bake at 350 degrees for 20-30 minutes
Brush with melted butter
Once bread is cooled, top with frosting
Slice and serve