Recently, we had a "secret-agent" party for a group of teenage girls. What better to eat at such a party than a cupcake made to look like a bomb?! Okay, it may sound a bit silly, but it was a lot of fun.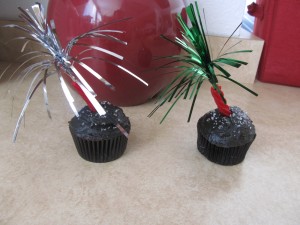 In case you're aching for a bomb cupcake, here is how it's done!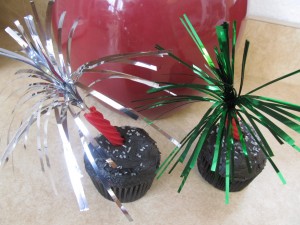 Start by making dark-chocolate cupcakes. I decided to skip the black food-coloring, since I knew I'd add enough to the frosting. I also baked them in black cupcake liners I found at a craft store.
Then I made the frosting! Again, I made dark chocolate frosting and added about 1/2 t black, gel food coloring. The gel works better than a liquid and a little goes a long way. I decided to settle on charcoal-colored frosting. Had I added more, all the guests would have left with black mouths.
I piped the frosting on the cooled cupcakes and then smoothed it into a round shape using an offset spatula.
Then I topped the frosting with silver glitter crystals. I suppose black glitter would have been more fitting… but I liked the silver better.
Then I got cut of the ends from strands of red licorice (my son's favorite part as he got to eat the scraps) and cut it into four pieces for the wick.
Then comes the fun part. I found some firework drink picks at a craft store. Since I don't drink, I immediately thought of sticking them in a cupcake!
I put the licorice on the drink pick (the licorice was much shorter than the pick), and put the whole thing down into the cupcake.
Doesn't it look like an explosion?