After an event I helped with, I found myself the owner for a large amount of crunchy Chinese noodles. When trying to think of what to do with my large amount of Chinese noodles, I immediately thought of these gems. These are addictively delicious and are perfect for Easter/Spring. Plus, they come together quickly and with few ingredients.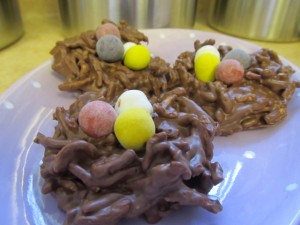 First, melt 2 bags (12 ounces each) of baking chips (like chocolate chips). I used one bag chocolate and one bag butterscotch because that is my favorite combination, but use whatever you like or have. It would work with just chocolate, chocolate with peanut butter chips, white chocolate chips, butterscotch alone, etc. The possibilities are endless!!!!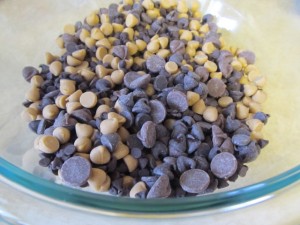 Now stir in 10 ounces Chinese noodles.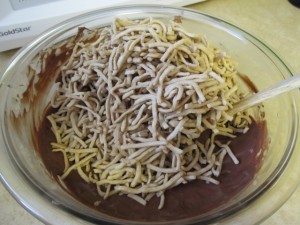 As far as the cookie part goes, that's it for ingredients!
Using an ice cream scoop, scoop some of the cookie concoction onto waxed paper and form it into a bird's nest shape using your hands. Yes, my hands were very chocolatey, but I didn't complain too much.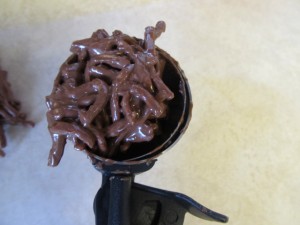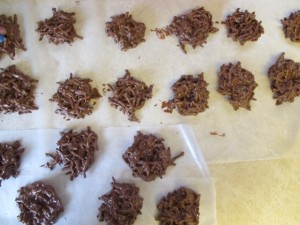 Now while the cookies are still gooey, add the eggs. For white eggs, I used yogurt-covered raisins because that's what I had. For the colorful eggs, I used a bag of dark-chocolate Cadbury mini eggs.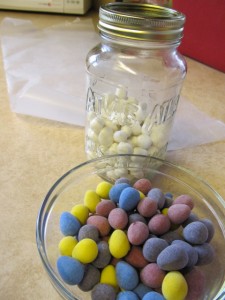 Sadly, I was disappointed in the dark chocolate. Mini Cadbury eggs are a big part of my life during the Easter season. I buy them the day they come out and spend a week in mourning after they're sold out for the season. Since I'm also a fan of big chocolate, I thought this would be a match made in Heaven. Sadly… it wasn't. I think next year, I'll go back to my classic mini Cadbury eggs.
Anyway… just place the eggs however you like in the nest. Feel free to use whatever egg-shaped candy you have.
Let these sit for about an hour until they're set.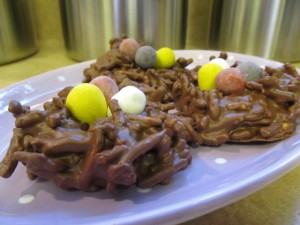 I love how crunchy and sweet these cookies are. Like I said… beware of contracting a Chinese noodle cookie addiction.