This week, we had one of those delicious recipes that after you eat it you think, "Wow! Why don't I eat this every day!?"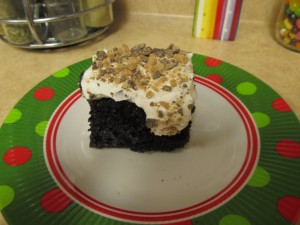 The best known name for this recipe is a bit on the adult side and since I wanted you to be able to make it for your children without having an awkward conversation when they ask what they're eating, I decided to change the name up a bit.
I thought long and hard and it finally came down to, "When my alarm clock goes off at 6 a.m., what's the first thing I want?" I realized, it's to go back to sleep. That's why I decided to change the name to "Better than sleeping in cake." You're welcome to call it whatever you want, as long as you make and eat this delicious cake!
Start with your favorite chocolate cake recipe. I prefer dark chocolate, but I prefer dark chocolate whenever possible. Make it from scratch, or use a cake mix. Either will work just as well. Though if you use a cake mix, I recommend using butter instead of oil and milk instead of water, so it's a bit more substantial to hold up to all the ooey-gooey-ness we're about to add.
Use the handle of a wooden spoon to poke holes in the cake.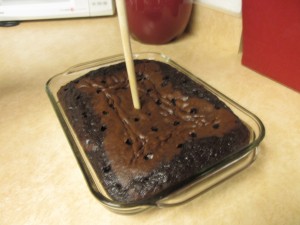 Now pour an entire can of sweetened condensed milk over the cake. It will seep into the holes which is EXACTLY what you want.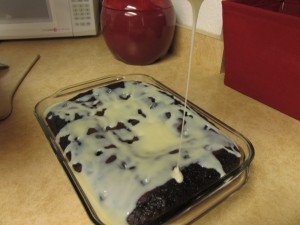 Now (Oh yes, there is more), pour 1 C of your favorite caramel sauce over the cake, just as you did the condensed milk. I used this…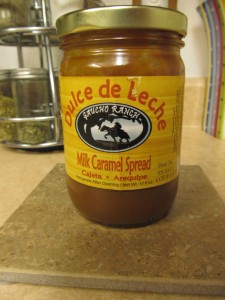 Now top that with about 1/2 C chocolate toffee bits.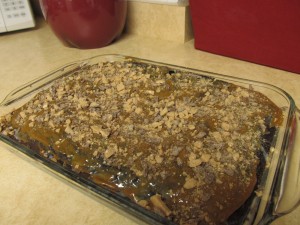 As if that weren't enough, spread an entire 8 oz container of whipped topping over the whole thing. I don't recommend using fresh whipped cream because this is one of those cakes that tastes even better a few days later, and fresh whipped cream just doesn't hold up that long.
Now to finish it off, top it with another 1/2-3/4 C toffee bits.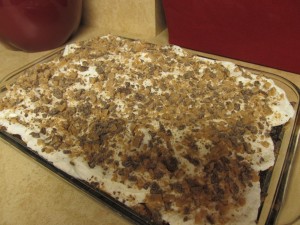 Is this delectable enough to pull me out of bed in the morning? It's likely. If the calories didn't count; DEFINITELY!