We love pasta, but spaghetti can get a bit old after a while. Here is a dish that is just as easy, but adds a little variety. Plus, there are some options to make this dish a little healthier!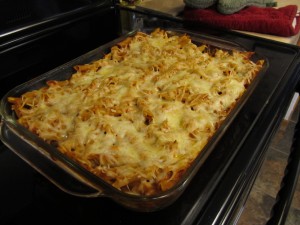 Ingredients:
1/2 lb ground beef or sausage
1 small or 1/2 large onion, chopped
2 cloves garlic, minced
1 1/2 t Italian seasoning
1 (26 ounce) jar spaghetti sauce
2T balsamic vinegar
1 (13.25 ounce) box penne pasta (cooked to al dente)
1/2 C ricotta cheese (optional)
1 1/2 t salt
1 t pepper
1 1/2 C Mozzarella or Italian Blend shredded cheese
Directions:
Brown meat, onion and garlic together in a large skillet sprayed with non-stick spray.
Stir in spaghetti sauce, balsamic vinegar, italian seasoning, salt and pepper.
Add cooked and drained pasta
Stir in ricotta cheese (this is optional. If you don't like/ have ricotta, it's still delicious without it. I just like the extra flavor and creaminess).
Spread mixture in a 9×13 pan and top with shredded cheese.
Bake at 350 degrees for about half an hour. Cheese should be melted and slightly browned.
As promised, here are your healthy changes. This is how I make it for my family. Luckily, the changed still make for a DELICIOUS dinner my family thoroughly enjoys!
Use ground turkey in place of the beef or sausage and be sure to drain it after it is browned.
Instead of traditional pasta, use a whole wheat/whole grain pasta.
Use part skim ricotta, or leave it out all together.
Use part skim mozarella for the cheese, and take the amount down to 3/4 to 1 cup.
Enjoy your dinner!!